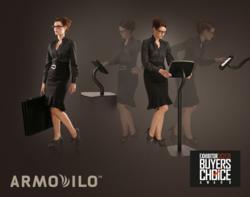 The response in 2012 was amazing, and now we are thrilled to show off our newer product innovations since our launch a year ago
Waterloo, Ontario (PRWEB) February 05, 2013
Armodilo Display Solutions will once again be showcasing its premium iPad Kiosk / Tablet Display Stands at EXHIBITOR2013 at the Mandalay Bay Convention Centre in Las Vegas from March 18-20, 2013. The tablet display solution company will be displaying its multiple award-winning, lightweight and multi tablet-friendly kiosk systems, which are designed specifically for the tradeshow and exhibit industry.
"The response in 2012 was amazing, and now we are thrilled to show off our newer product innovations since our launch a year ago. We're excited to see the growing tablet display market, and it is also a proud moment to return as last year's Buyers Choice Award winner," says Iles Guran, Founder & President.
The Armodilo(ex) Tablet Display Stand is the world's only 3-in-1 system configurable as a freestanding, tabletop or wall mountable solution, which supports a variety of tablet devices with its patent-pending Tablet Fit Kit™ system. It also quickly assembles and disassembles to fit into a custom, lightweight carrying case for easy storage and transportation.
New to the show this year will be the Armodilo(rt) line of display stands designed for retail and showrooms and an assortment of accessories that extend the iPad / tablet kiosk line including the highly requested ArmoTwist™ which through a fully adjustable tension mechanism gives full rotational and pivoting freedom to the kiosk head while still fully enclosing any cabling.
"There has been a rapid increase in the use of lightweight tablet displays, digital media, interactive content, and social media, all while moving towards simpler, and more modular designs," adds Iles. The patented design and sheer versatility of the Armodilo iPad kiosk / tablet display stand is unmatched. With various configurations to choose from, the applications for consumer interaction are unlimited.
Armodilo Display Solutions will be in Booth#869 from March 18 – 20.
Additional information on Armodilo products and accessories can be found at http://www.armodilo.com
About Armodilo Display Solutions
Armodilo Display Solutions is a multiple award-winning tablet display manufacturer located in Ontario, Canada. With a variety of tablet display stands and accessories for trade show, event, retail and corporate markets, Armodilo sets itself apart by creating highly refined products for discerning brands around the world.
For more information about Armodilo, contact:
Iles Guran Founder & President at Armodilo Display Solutions
sales(at)armodilo(dot)com / 1-800-975-5946
# # #