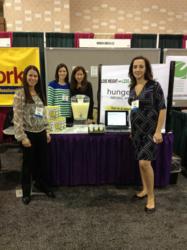 We wanted the opportunity to present this new weight control tool ourselves, as well as the quality of the ingredients we chose.
Scarsdale, NY (PRWEB) November 06, 2012
HungerShield was pleased to exhibit at FNCE's 2012 Member Product Marketplace on Sunday October 7, 2012. As four registered dietitians and long-standing members of the Academy of Nutrition and Dietetics, the HungerShield co-founders were received extremely well by their peers.
The purpose of the exhibit was to present the product and concept to the largest national conference of fellow registered dietitians (RDs) and nutrition professionals. "As soon as we launched, we signed up to exhibit at the Member Product Marketplace," says Elizabeth Pecoraro, MS, RD and HungerShield co-founder. "As registered dietitians, we recognize the importance of establishing the credibility of our product within our profession. We wanted the opportunity to present this new weight control tool ourselves, as well as the quality of the ingredients we chose."
While introducing the product, the HungerShield team also offered RDs the opportunity to distribute the product wholesale through their own private practices or via medical practices within which they work. In addition, RDs and other health professionals could partner with HungerShield to refer patients to purchase the product through HungerShield's website, http://www.hungershield.com.
"This product really met a need we saw each day with our patients -- a convenient tool that can help control cravings while working on overall lifestyle changes," says Percoraro. "Having credentialed distributors who believe in the product is important to us. We want to make sure our distributors understand the quality of the ingredients and how HungerShield should be used."
HungerShield founders also took the opportunity to take in all the Conference & Expo had to offer, including the wide variety of products featured in the 100,000+ square foot exhibit hall. "We are thrilled to see how many existing and new brands are investing in the quality of their ingredients to optimize nutritional balance, says Pecoraro. "Specifically, there were a number of meal replacements and snacks that are working with protein and/or fiber to promote satiety. HungerShield fit right in and offers it all in one simple stick packet!"
About HungerShield
HungerShield is an innovative appetite control drink mix created by four registered dietitians, Elizabeth DeRobertis MS, RD, CDN, CDE, Heather Zeitz RD, CDN, Elizabeth Pecoraro MS, RD, CDN and Dafna Chazin MS, RD, CDN. HungerShield is the only product on the market designed specifically to curb appetite through a unique blend of high quality and natural ingredients, including protein, fiber and probiotics. It is also the only product in this category that was created by healthcare professionals and can work with any diet plan on the market. For more information, visit http://www.hungershield.com. You can follow HungerShield on Twitter @HungerShield and on Facebook.