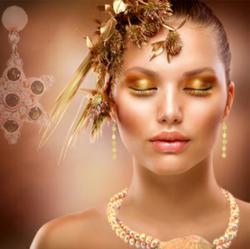 [Amatyzt] loves to see the relief and joy our customers feel when we make it easier for them to be really great gift givers!
Houston, TX (PRWEB) December 10, 2012
Gifts convey a special message. However, what matters the most is to make it "the best gift ever" for a loved one. Obviously, this has a lot to do with personalization. Amatyzt.com is an exotic jewelry boutique that has made this possible with its online presence. By offering its customized gift guide, Amatyzt.com helps its customers buy a jewelry gift or special watches according to the receiver's style and personality.
The spokesperson for Amatyzt.com stated, "As a unique jewelry boutique, Amatyzt.com gives its customers a personal touch with our tailored gift guide. This guide is an interactive webpage in which customers can tell us a little about their loved. This helps Alexa Ronngren, the owner of the jewelry boutique, recommend specialized art jewelry pieces and special watches that the receiver of the gift will definitely love. We start sending recommendations six weeks before anniversary, birthday, or any other special occasion the customer wants us to cover. "
Amatyzt.com has an entire section dedicated to the boutique's gift guide. Details customers are required to submit to this online art jewelry boutique include their own name, the gift receiver's name, his/her relationship with them, occasions they want the suggestions for, price range for the gift, and check mark a couple of sentences that represent their loved ones taste, style and personality. Customers can also look for gifts themselves by going to Amatyzt's Style Guide and choosing a style that fits what they are looking for.
"Alexa does not believe in sending useless emails trying to push jewelry to its customers. Instead, she believes Amatyzt must understand customer's jewelry requirements and provide a valuable service in the form of helping them find exotic jewelry or special watches that fits their needs. She loves to see the relief and joy our customers feel when we make it easier for them to be really great gift givers!" the spokesperson added further.
In order to find the right gift for their loved ones through the online gift guide service, customers are required to submit the gift requirements on Amatyzt.com 4 to 6 weeks before the event. The company will then be able to email them some tailored suggestions. This way, customers get ample time to decide the gift they want to order online. If a customer finds themselves short on time and in need of guidance, Alexa is happy to personally help them find the perfect gift. Just call toll free at 855-Amatyst (855-262-8998) or send an email letting her know you just submitted the gift guide and would like quicker assistance.
ABOUT AMATYZT AND ITS DESIGNERS
Amatyzt.com is an online jewelry boutique that specializes in unique designer jewelry and special watches by notable designers from all over the world. Founder Alexa Ronngren came up with the idea after meeting an award winning jewelry designer who despite having talent and accolades didn't have the marketing knowledge to promote her brand. Coming from a family with four generations in the gemstone business, Alexa has been able to curate a special collection of beautiful, high quality jewelry, watches and accessories on Amatyzt.com. Some designers are international award winners, others are well respected in their home market, and a few are emerging stars just starting to get discovered. The site's handpicked international array of designers includes Maria Moreno from Argentina, Mikky Eger from Milan, Atelier Orafo from Florence, Patrick Jerer from Beirut, Posse & Rake and Perihan Tufan from Australia, Sissai from Peru, Gwel and Unity Watches from Barcelona, Leonor Heleno from Paris, and PavlinaJewel from Athens. In the US, we have Pia Cevallos, Georgean Beauty, Alex Klien, and ShinYi. Despite coming from different corners of the world, they all share a passion for creating interesting, gorgeous, and uncommon jewelry.