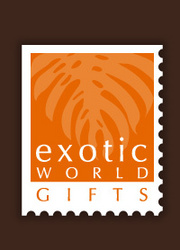 We call it Compassion Shopping™ and we believe that when someone buys these items, they are also making a positive contribution to the planet, the artists and their families.
Del Mar, CA (Vocus) July 16, 2008
Exotic World Gifts, Inc., an Internet-based e-commerce business (http://www.exoticworldgifts.com), recommends 5 tips for shoppers interested in helping the planet and the lives of hundreds of artists in developing countries. The company imports distinctive handcrafted home decor, jewelry and other gift items that provide a sustainable wage for artists from countries such as Bali, Thailand, Swaziland and Cambodia.
"It's all about being conscious about your shopping decisions," said Liz Allen, CEO. "We call it Compassion Shopping™ and we believe that when someone buys these items, they are also making a positive contribution to the planet, the artists and their families."
Allen and co-founder Mark Fangue visit every artist who supplies them with products and they are very clear about what's gone into the products they purchase. "We examine the raw materials, watch the process of making the item and only select products of the finest quality -- so fine that many are currently displayed in an art gallery," Fangue explained.
Based on their experience, Allen and Fangue offer these 5 tips for the green-conscious and compassionate shopper and use their own products to show us how easy it can be:
Tip #1: It's All About Fibers: We've all heard about natural fibers. But how deeply do you inspect the items you purchase? This ceramic bowl from Swaziland is woven with Lutindzi, the Swazi name for the strong, wiry sedge grass that grows on rocky outcrops in the mountains. And, it's "sustainable," since it is not eaten by cattle and finds moisture in the cracks of the rocks. The harvesting of this grass also leaves the roots in tact for the following harvest year, so it is an abundant and renewable resource.
Tip #2: The Dye's the Thing (or How Natural are the Dyes in your Products?): The use of natural dyes in making clothing items does not pollute the waters and lands in the areas where they are used. For example, here in southern Thailand, the villagers use dyes from indigenous plants, or those which are found naturally in their region. They conduct the entire process involved in making shawls including: feeding the mulberry leaves to silk worms, collecting the cocoons, unraveling the silk threads, dyeing the silk, creating the designs and weaving the cloth on hand-operated looms. The groups experiment with dyeing techniques and weaving methods to create original and stylish silk scarves and shawls.
Tip #3: What's Better than Hand-Made? Who doesn't love a hand-made gift item for birthday, anniversary or Christmas? Why not look for distinctive handmade items to complete your wardrobe? In northern Thailand, following the elaborate process of working with the silkworms and dyeing the fabric, women use hand-looms to weave the intricate patterns for silk scarves.
Tip #4: Get on the Reused Kick: Vietnamese traditions value the reuse of materials. Many imaginative artists begin small home-based businesses to earn a living by salvaging metal and other items to create whimsical designs.
Tip #5: The Use of Renewable Indigenous Materials: (Cinnamon's not just for cooking): The use of spices in food is well known, but what about using them to make a serving bowl? No need to manufacture an item when a natural item is already there. Here's an example of taking cinnamon, cutting it into fine pieces and using it to craft a fine serving bowl -- a perfect example of a natural item being used for multiple purposes.
Exotic World Gifts is a privately-held Web-based import company and the founders reside in Del Mar, California. The Company currently imports more than 350 distinctive gifts from eight countries (Thailand, Bali, Africa, Vietnam, Cambodia, Central and South America and India). The items are aesthetically rich and of high quality, often resembling works of art, but also have utility in everyday life. For more information, visit the Web site: http://www.exoticworldgifts.com .
###