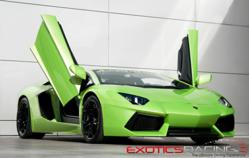 Simply the best supercar in the world, available for you to drive on a race track.
-- Romain Thievin, Owner/Founder
Las Vegas, NV (PRWEB) January 13, 2012
Want to drive the latest and greatest Lamborghini? Well it is now available in Las Vegas at Exotics Racing School, located approx. 20 min from the Las Vegas Strip. With a retail price just over $400k, the all new Lamborghini Aventador LP700-4 is the 2nd to arrive in Las Vegas and the 1st to arrive in the US in the Ithaca Verde color scheme, a color option only available by special order. The Aventador was designed to replace the ten-year-old Murcielago as the new flagship model in the Lamborghini line-up and can be driven on a racetrack at Las Vegas Motor Speedway.
Like previous Lamborghinis, the Aventador name was chosen for its symbolic connection to the world of fighting bulls, sharing a name with the legendary Aventador, a trophy-winning bull in the world of Spanish bullfighting. Production will be limited to 4,000 units and Lamborghini says that the Aventador is two generations ahead of anything else on sale by using Formula One-style suspension and having a lightweight carbon fiber frame. Stylistically, the Aventador represents an evolution of its predecessor, the Murcielago. The car's shape also borrows heavily from Lamborghini's limited-edition Reventon and their Estoque concept car.
Performance for the 700hp V12 supercar has been estimated to rocket from 0-60mph in 2.9 seconds with a top speed around 217mph. Its transmission is a single-clutch 7-speed semi-automatic and gear-shifts are accomplished in 50 milliseconds. The brand new, electronically controlled, four-wheel drive system offers superb traction and handling capabilities that make it the most fascinating driving experience ever!
About Exotics Racing
Founded by French racing driver Romain Thievin, Exotics Racing Las Vegas brings you the original supercar track driving experience, with the world's largest fleet of exotic cars. Launched in 2009 at Las Vegas Motor Speedway, Exotics Racing has had over 30,000 satisfied customers who have visited to drive today's most exciting supercars, with professional racing instruction on a real race track. The racing school program integrates classroom education, familiarization laps and real-time right seat instruction into one comprehensive, safe and exciting driving experience. Details for the racing school can be found on http://www.exoticsracing.com or by calling (702) 405-7223.
# # #