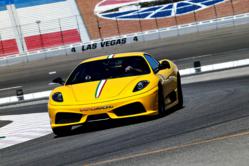 Exotics Racing has become one of our best partners, said LVMS president Chris Powell
(PRWEB) November 22, 2011
Exotics Racing and Las Vegas Motor Speedway have agreed to a multi-year agreement to keep the exotic car driving experience at LVMS well into the future. The agreement will allow Exotics Racing to continue its expanding operation which offers a unique experience where guests can drive today's most exciting supercars at the speeds for which they are designed. The only requirements are that guests must possess a valid driver's license and be at least 18 years old.
By implementing real-time, right-seat coaching, students have the ability to push the limits of performance in a safe and exciting environment. The mission at Exotics Racing is to ensure all clients experience the latest models from such well-known names as Ferrari, Lamborghini, Porsche, Aston Martin, Audi, as well as the Nissan GT-R at a low and reasonable price point. In order to keep up with the demand, Exotics Racing has expanded its fleet of cars from six to more than 20 in the past two years.
"We have had tremendous success since we began operating at Las Vegas Motor Speedway in late 2009," said David Perisset, president of Exotics Racing. "We have had more than 30,000 drivers come through in the two years we have been here, so we are really excited to know that we will be here for many years to come."
The speedway, which hosts more than 1,400 event days per year, including the annual March NASCAR weekend and two NHRA national events, is the country's most diverse motorsports facility. Exotics Racing has become one of our best partners," said LVMS president Chris Powell. "They've certainly opened up the speedway to a new customer, and we look forward to a long relationship."
Originally founded in Europe in 2004, Exotics Racing has been operating in Las Vegas since 2009. Accessible to all, the racing school offers individuals the opportunity to drive today's most amazing supercars with professional racing instruction on a real race track. The program integrates classroom education, familiarization laps and real-time right seat instruction into one comprehensive, safe and exciting driving experience. Details for Exotics Racing can be found at http://www.exoticsracing.com or by calling (702) 405-7223.
###