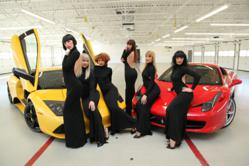 It was truly the perfect combination; beautiful girls and exotic supercars said Exotics Racing CEO David Perisset.
Las Vegas, NV (PRWEB) November 09, 2011
What do Las Vegas showgirls do in their free time you ask? Well a group of girls from MGM Grand's Crazy Horse Paris visited Las Vegas Motor Speedway Wed Oct 26 to drive some of the world's most exciting supercars at Exotics Racing. Six of the most beautiful women on the Las Vegas Strip arrived to meet the staff and pose for photos before getting behind the wheel to show off their driving skills on the track. The girls drove a variety of cars from Ferrari, Lamborghini, Audi, and Porsche.
Originally founded in Europe in 2004, Exotics Racing has been operating in Las Vegas since 2009. Accessible to all, the racing school offers individuals the opportunity to drive today's most amazing supercars with professional racing instruction on a real race track. The program integrates classroom education, familiarization laps and real-time right seat instruction into one comprehensive, safe and exciting driving experience. Details for the racing school can be found at http://www.exoticsracing.com or by calling (702) 405-7223.
Since its 1951 inception in Paris, Crazy Horse Paris has been a cultural phenomenon offering unique shows that engage the eye as much as the imagination. Crazy Horse Paris shows rely on raw body talent and beauty rather than technology. The show combines sensuous choreography with various luminary and projection effects to create a moving canvas of skin, where reflections and images meet in a kaleidoscope of colors and textured designs.
MGM Grand's Crazy Horse Paris performs nightly at 8 p.m. and 10:30 p.m. Wednesday through Sunday. Guests must be at least 18 years of age to attend the show. Tickets are priced at $50.50 (limited seating) and $60.50 including tax and service fees and can be purchased at MGM Grand ticketing outlets, by phone at (702) 891-7777 or online at http://www.mgmgrand.com.
###