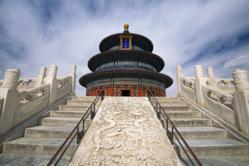 Bangkok, Thailand (PRWEB) February 15, 2013
The average stay for visitors to the capital is three days, so this will suit most travelers who wish to go sightseeing or are attending business events. Exo China were fast to take advantage of the policy and recently launched a China tour named 'Beijing/Hong Kong Visa Free City Escape'. This 7 day 6 night tour in China reveals 2 very different cities. Guests spend 3 nights exploring the capital with visits to the Temple of Heaven, Forbidden City and Great Wall before departing Beijing to visit Hong Kong. Here they explore vibrant markets, sample some of the countries finest foods and marvel at the mountainous backdrop of this amazing city.
Exo China also teamed up with Exo Japan to create a new tour in Asia that takes travelers to two of the continents most intriguing countries. For those planning a holiday in Asia, it allows the opportunity to visit not one, but two, of Asia's main hubs with no visa requirements, making the planning a great deal easier and saving on cost. 'Beijing/Tokyo Visa Free City Escape' shows the wonders of Beijing before taking a tour of Japan in its lively capital city.
Following the announcement of the 72 hour no visa allowance, Exotissimo expects that international airlines will increase the number of connecting flights stopping over in Beijing.
About Exotissimo Travel
Exotissimo Travel is a premier destination management company that specializes in tailor made tours in Vietnam, Cambodia, Laos, Myanmar, Thailand, Indonesia, Japan and China. Established in 1993, the company is now a network of 20 locally-based offices staffing over 600 travel professionals, with sales offices in France, UK/Ireland, Germany, Spain, Australia, US and Brazil. For more information, please visit: http://www.exotissimo.com