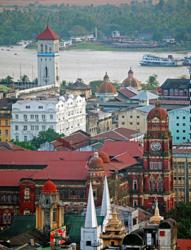 Bangkok, Thailand (PRWEB) February 28, 2013
Unprecedented is often the word used to describe Myanmar's expansion as a tourist destination. No country has undergone such rapid growth in such a short period of time – an effect caused by a country opening its borders in an age of globalization.
"Previously, only the adventurous embarked on a Myanmar Tour, but now more leisure travelers are also arriving and with a different set of expectations," commented Richard Ludwig, Product Manager at Exotissimo Myanmar. He continued, "Guides, especially experienced ones, are at a premium this season. Exo is providing guide training and looking for bright, energetic new guides all the time. We are also putting together a 'First Aid Training' program, the first travel company in the region to perform such training. To handle these developments we have seen our staff in the Myanmar offices increase by more than 100 percent in the last eight months."
U Htay Aung, Minister for Hotels and Tourism, recently spoke about this sudden increase in tourism and its effects.
Addressing the infrastructure issues, U Htay Aung stated the country needs to develop a range of sectors, a 'Tourism Master Plan', and new laws to cope with the demand. The ministry wishes to pass laws, not to ruin the culture and environment', and will 'study neighboring countries' to glean the best and worst of those."
Exotissimo Myanmar has been negotiating with hotel owners to secure rooms and to resolve any issues. While there are still no true 5 star hotel options, the choice of hotels in Myanmar, especially in Yangon, Bagan, Mandalay and Inle are satisfactory to most traveler's needs and requirements.
About Exotissimo Travel
Exotissimo Travel is a premier destination management company that specializes in tailor made tours in Vietnam, Cambodia, Laos, Myanmar, Thailand, Indonesia, Japan and China. Established in 1993, the company is now a network of 20 locally-based offices staffing over 600 travel professionals, with sales offices in France, UK/Ireland, Germany, Spain, Australia, US and Brazil. For more information, please visit: http://www.exotissimo.com