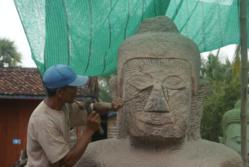 Bangkok, Thailand (PRWEB) February 22, 2013
Working closely with local groups, Exotissimo Travel has developed a number of tours in Cambodia, taking guests on adventures through the landscapes, showing the stunning architecture and visiting places such as 'Golden Silk Pheach Farm', an NGO helping to revive the ancient Khmer process of silk production while providing many locals with work. The high quality end products can take months or even years to finish. A recently developed artisan tour 'Adventure Artisan – 4D/3N' takes guests from Siem Reap on a 4 day adventure using bicycles to travel during the day and stops at the silk farm. The program also visits Banteay Srei temple, the Rolous Group, a number of art galleries and some of the country's most revered dining establishments.
A journey through the Cambodian countryside will expose travelers to industries such as rice paper production, weaving and even fish paste factories. There are also a growing number of visual and performing arts schools providing essential education to poorer communities. Exotissimo's 'Battambang Escape – 3D/2N' program unveils Cambodia's second largest city that exudes a laid back vibe and visits these smaller cottage industries and Phare Ponleu Selpak School of Music, Visual & Performing Arts.
Khmer Architecture is renowned the world over and its most famous example, Angkor Wat, continues to amaze every visitor. Ornate stone carvings grace the front of many temples and the stone sculpting prowess is evident at every turn. However a different kind of architecture came to prominence in the 1950s and 1960s, a golden era which can still be enjoyed today in cities such as Phnom Penh, Battambang and Kampot. Learn of the history and continued work to preserve this historic heritage on a tour of Cambodia organized by Exotissimo, revealing the inspirational Khmer Architecture.
About Exotissimo Travel
Exotissimo Travel is a premier destination management company that specializes in tailor made tours in Vietnam, Cambodia, Laos, Myanmar, Thailand, Indonesia, Japan and China. Established in 1993, the company is now a network of 20 locally-based offices staffing over 600 travel professionals, with sales offices in France, UK/Ireland, Germany, Spain, Australia, US and Brazil. For more information, please visit: http://www.exotissimo.com