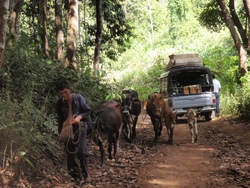 For months, we have been scouring Northern Thailand for a route that is off the regular trekking path. I am glad that we finally succeeded in establishing a program along the Old Elephant Trail that combines spectacular scenery, intriguing culture and real life experience for a fulfilling jungle adventure
Bangkok, Thailand (PRWEB) January 14, 2009
Southeast Asia's leading destination management company, Exotissimo Travel, is expanding its adventure portfolio in Thailand with the addition of a week-long expedition along an ancient trade route in the Thai-Myanmar border.
The Old Elephant Trail: Trekking Thailand's Highest Peaks is a 7 Day / 6 Night trek that starts from Mae Surin National Park in Mae Hong Son Province along the little known Old Elephant Trail. Centuries ago the route was busy with merchants traveling between Mae Hong Son and Chiang Mai but with the construction of a road in the 1950s, the trail was abandoned. After years of solitude, the trail is now the perfect route for adventurous travelers.
Traversing over ridgelines and through dense forests, travelers will trek through some of Thailand's most remote natural areas and be rewarded with sweeping panoramas of lush forests and wildlife-spotting opportunities in the mountains. Evenings are spent amongst the locals as trekkers camp down in tents and home stays in hill tribe villages, providing an up-close experience with these traditional communities. Travelers will be accompanied by Exotissimo and local Karen guides for the entire trek.
In order to create a groundbreaking itinerary, Exotissimo's team of adventure experts conducted in-depth research and fieldwork in the region. "For months, we have been scouring Northern Thailand for a route that is off the regular trekking path. I am glad that we finally succeeded in establishing a program along the Old Elephant Trail that combines spectacular scenery, intriguing culture and real life experience for a fulfilling jungle adventure," said Bastiaan R. Brüning, Adventure Manager of Exotissimo Thailand.
Trekkers who embark on this challenging trail are recommended to possess a reasonable level of fitness as the terrain can be steep and undulating on some days. However, adventure enthusiasts of average fitness levels should not be deterred from this program as long as they make sufficient preparations for the expedition.
Having successfully conducted charity cycling trips from Hanoi to Saigon in Vietnam, Exotissimo hopes that this unique route can be integrated into charity programs to support meaningful initiatives in Southeast Asia. In undertaking such expeditions, adventure seekers can also galvanize support or raise awareness for charities at the same time.
The inaugural trip on the Old Elephant Trail has been booked by a group of 13 participants who will take up the challenge of completing the ancient route and fundraising for American Foundation for AIDS Research (amfAR).
To view the details of this exciting trekking program, visit The Old Elephant Trail: Trekking Thailand's Highest Peaks.
To view Exotissimo's rich selection of adventure tours in Southeast Asia, visit Exotissimo's Great Adventures.
About Exotissimo Travel:
Exotissimo Travel is a premier destination management company that specializes in tailor made tours in Vietnam, Cambodia, Laos, Myanmar and Thailand. Established in 1993, the company is now a network of 15 locally-based offices staffing over 500 travel professionals, and sales offices in San Francisco, Paris, Berlin, Barcelona and Melbourne. For more information, please visit Exotissimo.com.
###