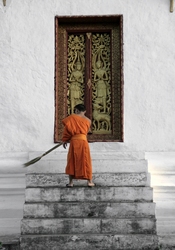 Everyone knows Luang Prabang and Vientiane, but the 'Laos in Depth' tour show the lesser known and untouched destinations, thus providing travelers with an unparalleled insight into Laos
Bangkok, Thailand (PRWEB) December 19, 2008
Exotissimo Travel, known for providing high quality tailor-made tours in Southeast Asia, recently launched a unique and exciting itinerary in Laos.
Laos in Depth is a distinctive 12 days/11 nights program that combines the allure of the diverse landscapes and natural wonders with opportunities to experience the friendly people and intriguing spiritual culture of Laos.
Created by Exotissimo's team of destination experts, this exclusive itinerary aims to provide travelers with an experiential adventure in Laos. "Everyone knows Luang Prabang and Vientiane, but the 'Laos in Depth' tour show the lesser known and untouched destinations, thus providing travelers with an unparalleled insight into Laos," remarked Jean-Yves Paille, Exotissimo Laos' Product Manager.
Beginning the trip in Laos' northern reaches at Houey Xay, travelers embark on a two-day cruise along the Mekong that presents ample opportunities to discover the local rhythms of life along the way. As the river journey weaves downstream, several stops are made including at the Buddha statues-filled Pak Ou caves and a village which specializes in local rice wine production. The trip concludes in Luang Prabang, the spiritual capital of Laos which is filled with tree-lined streets, resplendent temples and heritage buildings.
Travelers then venture towards Vang Vieng, a quaint town framed by the spectacular karst formations rising above the Nam Song River before moving on to Vientiane, the laidback capital of Laos where shopping opportunities for local crafts and silk textiles abound.
The trip continues to Southern Laos, one of the least discovered areas in Asia. Travelers can enjoy the cool highland weather of the Bolaven Plateau while exploring the coffee plantations, local villages and towering waterfalls. The final stretch of the journey takes travelers to the Siphandon area, where the Mekong reaches its widest in Laos and branches out across thousands of small islands. The pre-Angkorian ruin of Wat Phu and an elephant ride through the lush forests are sure to leave an impression.
To view Exotissimo's rich selection of unique tours in Laos, peruse our Laos Tours.
About Exotissimo Travel:
Exotissimo Travel is a premier destination management company that specializes in tailor-made tours in Vietnam, Cambodia, Laos, Myanmar and Thailand. Established in 1993, the company is now a network of 15 locally-based offices staffing over 500 travel professionals, and sales offices in San Francisco, Paris, Berlin, Barcelona and Melbourne. For more information, please visit Exotissimo.com.
###