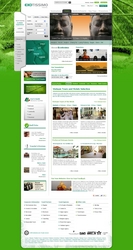 Southeast Asia offers an endless selection of touring possibilities which can be daunting at times
Bangkok, Thailand (PRWEB) April 2, 2009
Exotissimo Travel, the leading travel specialist company in Southeast Asia, is pleased to announce the launch of its new and improved website http://www.exotissimo.com.
Delivering an expanded product lineup with a sophisticated new look and user-friendly layout, Exotissimo aims to provide the best online experience for travelers planning a trip to the Southeast Asian countries of Vietnam, Cambodia, Laos, Myanmar and Thailand.
"Southeast Asia offers an endless selection of touring possibilities which can be daunting at times," said Damien Pfirsch, E-Commerce Director of Exotissimo Travel Group. "The updated website provides invaluable tips, reviews and itineraries and makes planning the perfect vacation in Southeast Asia a seamless and enjoyable journey with Exotissimo."
"Discerning travelers seek an experiential journey during their travels in Southeast Asia. They may want to enjoy their favorite hobby or explore a new domain such as meditation in a fresh setting. Our website lists a gamut of local activities and experiences that can be enjoyed in each destination," Damien added.
On exotissimo.com, the tours and day trips are broken down into three main categories - classic, luxury and adventure - to allow visitors quick access to their desired traveling experience. Additional traveling styles, such as family, cruises, honeymoon, culinary, responsible travel, cycling, trekking or golf, are also showcased on the website.
Exotissimo's travel expertise and unparalleled insider knowledge of Southeast Asia is further demonstrated in the unique country guides. Each guide spotlights the possible touring activities, recommended hotels and must-try local delicacies, as well as suggestions on authentic native experiences or hidden gems which are typically missed by tourists.
In keeping with Exotissimo's philosophy of promoting sustainable tourism, the new website features an expanded catalogue of Responsible Travel programs. Denoted by a leaf icon, these tours are low-impact and may include activities such as cycling, visiting charities or participating in a community-based tourism project.
Another noteworthy element is the brand new promotions section which highlights the best hotel promotions and tour packages in Southeast Asia for value-conscious travelers. The list is regularly updated as Exotissimo continuously sources quality deals from its preferred list of suppliers in the region.
The new Exotissimo website can be accessed at http://www.exotissimo.com.
About Exotissimo Travel
Exotissimo Travel is a premier destination management company that specializes in tailor made tours in Vietnam, Cambodia, Laos, Myanmar and Thailand. Established in 1993, the company is now a network of 15 locally-based offices staffing over 500 travel professionals, and sales offices in San Francisco, Paris, Berlin, Barcelona and Melbourne.
###