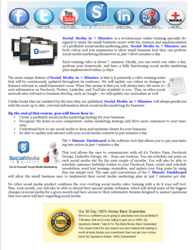 The very same reason why this (expanded tweets) is a good feature for users could also be why marketers may not like this feature.
Austin, Texas (PRWEB) June 25, 2012
Twitter recently updated its service to provide a few select businesses with the opportunity to try out its newest feature called 'Expanded Tweets'. According to the official Twitter Blog, "When you expand a Tweet linking to a news article…you can see a preview with the headline, the introduction and sometimes the Twitter accounts of the publisher and writer. You can continue to read the article, follow these accounts, and reply, favorite or retweet the Tweet."
Is this new expanded tweet feature good or bad for marketers?
"The new expanded tweet feature for Twitter will provide more value for users as they will now be able to preview the website and even watch a video," says Black Box Social Media Co Founder Curt Maly. "Once they preview, users will love the fact that they don't have to click on a link to get the information they are most after."
The very same reason why this is a good feature for users could also be why marketers may not like this feature.
"The problem with this though is that the reader of the Twitter Expanded Tweets does not have to go to this site," says Tom Bukacek, CEO of BBSM and co-author of "Marketing Miracles" with Dan Kennedy, due out this Fall. "They can get the basic information they need right from Twitter and move on to the next tweet."
Certain media corporations also state that their content is being stolen as the viewer can find what they need through the tweet and no longer need to visit the original site.
The Twitter Expanded Tweet is a new feature in testing phase, so only time will tell whether or not this feature will be good or hurt marketers.
About Black Box Social Media: Black Box Social Media is an online marketing company that assists small businesses with increased branding and search engine optimization functions by using web 2.0 strategies such as video editing, pay per click, social media, web design, email marketing, and more. Black Box Social Media is also the creator of 'Social Media In 7 Minutes', an online training and implementation program designed for small businesses to learn how to utilize Facebook, Google+, Twitter, YouTube, and other social media sites for marketing.