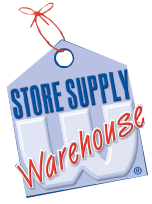 We have always prided ourselves in our ability to ship quickly. We are always looking for ways to enhance our shipping policies and make them better.
St. Louis, MO (PRWEB) May 17, 2012
Store Supply Warehouse, a St. Louis based retail supply company, announces the expansion of its shipping zones to reach a broader market in a more efficient time. Using one-day shipping, more customers across eight different U.S. states can be reached at no additional charge from their standard ground shipping.
"Like many online shoppers, fast shipping is something retailers look for when shopping for store supplies," says Matt Wohlstadter, President of Store Supply Warehouse. "If their shop runs out of everyday items, they can't wait long to restock. It's essential that they receive their order in a timely fashion to ensure that their businesses keep operating as usual."
Store Supply Warehouse has offered one-day standard ground shipping to the majority of the United States for several years due to its strategically placed fulfillment centers across the U.S. This expansion is the result of ongoing collaboration with the company's shipping partners in an effort to offer superior service to its customer base of independent retailers. The expansion affects eight states directly, including New Hampshire, Maine, New York, Pennsylvania, West Virginia, Ohio, Kentucky and Michigan. Simply by enhancing the ground-rate shipping to one-day shipping, Store Supply Warehouse can ship to more people in less time across the United States.
All customers have to do to take advantage of the new shipping rates is place their order online or by calling customer service. When they ask for standard ground shipping, they're automatically given one-day shipping on the order. Now, instead of waiting two days for their supplies, customers only have to wait one day before they can restock their store.
"We have always prided ourselves in our ability to ship quickly. We are always looking for ways to enhance our shipping policies and make them better. We believe that by being able to ship quickly, efficiently, and inexpensively, customers have a really good reason to order their supplies at Store Supply Warehouse," adds Wohlstadter.
Store Supply Warehouse carries a wide selection of retail supplies, including every day-use items like retail bags, hangers, price tags, and signage. The supply company also provides retailers with fixtures, display cases, and racks to organize showroom floors and attract customers.
For more information about Store Supply Warehouse's shipping policies, please visit the website: http://www.storesupply.com/shipping-rates.aspx
About Store Supply Warehouse
Store Supply Warehouse was founded in 1994 in St. Louis, and has since seen immense growth, selling retail fixtures and retail store supplies, including display cases, racks and shelving, shopping bags, hangers, pricing and tagging guns and mannequins. The distribution chain takes pride in its quick transaction process, efficient delivery, and quality customer service. Products are available for purchase through Store Supply's catalog, which is updated and distributed four times a year, or online at http://www.storesupply.com. Same-day shipping is guaranteed on all orders placed before 3 p.m. The company's main office is located at 9801 Page Avenue, St. Louis, Missouri, 63132. Contact Store Supply directly at 800-823-8887 or by email at contactus(at)StoreSupply(dot)com.