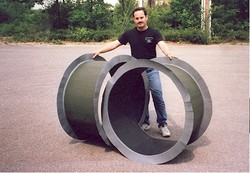 As all of our expansion joints are custom designed and manufactured, everything we do depends on efficient workflow
Bath, PA (PRWEB) October 24, 2008
FlexCom Inc., a global leader in expansion joint design and manufacturing, today announced the completion of their recent move into new, high-tech production facilities in Bath, Pennsylvania. This new manufacturing plant, a full-service production and shipping facility featuring state-of-the-art design, fabrication and testing capacities, is anticipated to effectively double FlexCom's capacity for producing their trademark expansion joint product lines.
According to Jim Wall, CEO of Flexible Compensators (FlexCom) Inc., it was the demanding needs of today's expansion joint customer that drove the decision to expand the company's operation.
"As all of our expansion joints are custom designed and manufactured, everything we do depends on efficient workflow," said Wall. "Maintaining and developing our competitive position in today's expansion joint market means endlessly reinforcing our strengths: the best product designs, well-trained personnel, the most sophisticated precision equipment, strategic shipping capabilities and a dedication to quality customer service. Our new Bath plant seamlessly integrates it all under one roof -- enabling us to meet our customers' needs more efficiently than ever before."
Two thirds larger than the company's former manufacturing plant, FlexCom's new facility in Bath, PA assembles fully custom design, fabrication, assembly, testing and full-service shipping operations into a single, completely integrated manufacturing process. It is strategically located near rail, truck and air shipping locations, only seven miles from Lehigh Valley International Airport in Allentown, PA.
For more information, contact FlexCom at (610) 837-3812.
About FlexCom:
Headquartered in Bath, Pennsylvania, FlexCom Inc. produces custom, precision made expansion joints for large-scale industrial applications such as power generation, pollution control, cement kilns and chemical plants. Established in 1991, FlexCom Inc. has established a lasting reputation as a global industry leader in the manufacture of robust, dependable custom fabric and metal expansion joints. The company's complete line of metal bellows, flat and U-belt expansion joints, as well as their trademark FlexLam and ChemShield composite fabrics, today play invaluable roles in many of global industry's most demanding gas and liquid transfer applications.
###