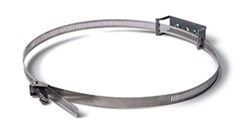 Kansas City, Missouri (PRWEB) October 24, 2013
Rough plumbing manufacturer, Sioux Chief, is pleased to offer a new Expansion Tank Support Kit.
The system is designed to secure expansion tanks to wall studs and is ideal for typical apartment installations where the water heater is installed in a closet.
Expansion tank kits are sold 10 to a case, in two sizes: Kit 598-0210 has a 32.5 inch stainless steel snap-lock band to secure typical 2-gallon tanks. Kit 598-0213 has a 45-inch stainless steel snap-lock band long enough to wrap around 5-gallon tanks. Each band threads through a 16- gauge galvanized steel bracket that fastens to the stud wall with two 2-inch screws.
More About Sioux Chief
Sioux Chief has been designing and manufacturing plumbing products since 1957. It leads the U.S. in developing rough plumbing solutions for residential, commercial, industrial and government uses. Its product line comprises three core lines: Supply; Drainage; and Support. Sioux Chief's products are sold to qualified wholesale distributors and retailers worldwide. The company is headquartered in Peculiar, Missouri, just outside Kansa City.
Contact Information:
24110 South Peculiar Drive
Peculiar, MO 64078
1-800-821-3944