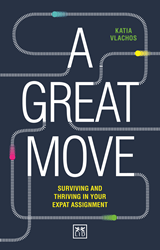 This book is a great 'how-to' for anyone considering a global move. —Alan Watts, Hilton
NEW YORK (PRWEB) August 27, 2018
There are currently over 57 million expatriates worldwide and research shows that international assignee levels are expected to rise a further 50% by 2020. However, between 4 and 10% of expatriate assignments get terminated early. Such an alarmingly high failure rate begs the question: Why?
According to cross-cultural adaptation writer and expat coach Katia Vlachos, many expats have unrealistic expectations of what an international move entails, both in practical and emotional terms, so they neglect to build up sufficient resources to deal with the consequences. But Vlachos strongly believes that both professional and personal expat assignment failures are avoidable — with careful forethought and planning. In her debut book, "A Great Move: Surviving and Thriving in Your Expat Assignment" (LID Publishing, 2018), Vlachos provides a systematic, step-by-step guide for deciding, planning, and carrying out any international move.
Part one outlines the five core principles to help guide your move. Principle number one titled "Your Concept of Home Matters" asks, "What is home to you?" Part two helps put those principles into action, providing a detailed, systematic approach for the process of moving. Stories of relatable expat experiences are woven throughout, along with snapshot assessments, chapter checklists, and common mistakes.
Vlachos reflects on her own time abroad and offers personal inspiration, saying, "An international move can be a life-changing journey. It can be stimulating, energizing, enriching, and inspiring. But it can also be challenging, confusing, frustrating, and messy, especially during the transition. It is my hope that this book will provide you with solid foundations for making a smooth and successful transition." She continues, "I hope that it will help you cope with the challenges so that you can focus on making the most of your expat experience and building a thriving new global life."
"A Great Move" is available for pre-order on Amazon, Barnes & Noble, and IndieBound (paperback, retail price: $19.95) and will be released for sale in the US on September 18, 2018.
Advance praise for "A Great Move" includes:
"This book is a great 'how-to' for anyone considering a global move. Katia Vlachos highlights the need for leaders to pay as much attention to planning for potential lifestyle, support system, and cultural changes as they do for taking the new role. Neglecting to do this can lead to unhappiness and frustration in the initial stages of the move, potential underperformance, and, in extreme cases, even failure in the new job." —Alan Watts, president, Asia-Pacific, Hilton
"An amazingly complete book that looks at the needs of adults as well as children in any global move. It includes thoughtful advice wise movers must consider in order to maintain emotional and physical balance during this time. 'A Great Move' is replete with solid, practical suggestions for what all members of the family can do to not only move well, but also thrive in the new place. For all those planning to move, this book is invaluable." —Ruth E. Van Reken, co-author of "Third Culture Kids: Growing Up Among Worlds"
About Katia Vlachos:
Katia Vlachos is a writer, coach, and experienced expat. She writes on cross-cultural adaptation and the rewards and challenges of expatriate life. As a coach, she helps her clients navigate transitions, whether it is making an international move, changing career direction, or coping with separation or divorce. Katia is a researcher and defense analyst by training, with a PhD in policy analysis from the RAND Corporation and an MA in public policy from Harvard's Kennedy School of Government. She lives in Zurich, Switzerland. Visit: https://www.katiavlachos.com/
About LID Publishing:
LID Publishing specializes in working with business authors and organizations to help them develop content to promote their brand, message, and expertise. Founded in 1993, LID has over 1,700 authors and continues to add approximately 120 new titles each year. Visit: http://lidpublishing.com/