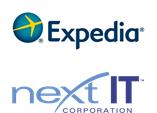 "Our goal with this project is to offer our customers a way to get the assistance they need, whenever they need it, without having to wait to speak with a representative."
Spokane, WA (PRWEB) May 24, 2011
Expedia.com®, the world's largest online travel company has chosen Next IT, a leading provider of conversational virtual employees for business, to create and implement its new vision for online customer-service launching this fall.
The ActiveAgent™ solution, powered by Next IT Human Emulation Software™, is slated to go live later this year on the Expedia.com website in the form of a virtual agent who will help travelers seeking travel booking information.
Virtual Agent will support and assist travelers
"The virtual agent will be an extension of the Expedia brand by providing an intuitive, conversational tool that will help our millions of travelers plan and book travel," Tim MacDonald, Senior Vice President and General Manager of Expedia® said. "Our goal with this project is to offer our customers a way to get the assistance they need, whenever they need it, without having to wait to speak with a representative."
Travelers will be able to access the virtual agent from multiple places on Expedia's website and ask questions, get assistance with booking travel, check on reservation status and itineraries, and initiate actions using everyday language, just as though they were interacting with a live customer-service representative.
"ActiveAgent's ability to handle complex data is a great fit for Expedia's multifaceted business and the many different types of travelers they serve," said Fred Brown, Next IT Founder and CEO. "Expedia customers will have instant access to the personalized, relevant information they need."
Next IT is a leading provider of conversational online virtual employee solutions for the travel industry.
About Expedia.com
Expedia.com is the world's leading online travel site, helping millions of travelers per month easily plan and book travel. Expedia.com (http://www.expedia.com/, 1-800-EXPEDIA) aims to provide personalized service, the latest technology and the widest selection of vacation packages, flights, hotels, rental cars, cruises and in-destination activities, attractions, and services. With the Expedia Best Price Guarantee, Expedia.com promises to offer to its customers the best rates available online for all types of travel. Expedia.com is an operating company of Expedia, Inc. (NASDAQ: EXPE).
About Next IT
Next IT is a leading provider of conversational virtual employees for business. The company's technology optimizes efficiency and generates revenue by delivering a superior user experience that emulates the qualities and expertise of a company's best employee, regardless of language or channel. Human-emulated virtual employees provide a user-friendly, effective interaction that is consistent, scalable and personalized. Next IT has delivered this experience for many enterprise-class organizations, including Aetna, Alaska Airlines, AT&T, BECU, Continental Airlines, Shaw Communications and the U.S. Army. For more information on Next IT please visit http://www.NextIT.com.
Expedia and Expedia.com are trademarks or registered trademarks of Expedia, Inc. in the U.S. and/or other countries. Other logos or product and company names mentioned herein may be the property of their respective owners. © 2011 Expedia, Inc. All rights reserved. CST: 2029030-50
# # #