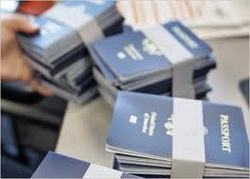 Our hearts go out to all the families ambushed by this disaster that were caught completely unprepared.
Delray Beach, FL (PRWEB) March 11, 2011
Travel Passport Visa Center is extending their help to assist in the relief efforts for medical and disaster personnel traveling to Japan- ravaged by an 8.9 magnitude earthquake that hit just off the northeastern coast March 11 . They are a passport expediting firm located in Delray Beach, members of the Better Business Bureau and The American Society of Travel Agents. They are the direct liaison between the passport applicant and the US Department of State and have the ability to get a passport processed in as little as 24 hours. Travel Passport Visa Center will be offering free assistance in completing the passport application form for standard processing and deeply discounted rates for applicants wishing to expedite their passport. They are extending office hours and will be available over the weekend to assist with passport applicants traveling to Japan. All current passport applications are available on their website as well as thorough instructions for document submittal. Coupons for discounted passport photos are also available.
Travel Passport Visa Center has offered assistance for recent disaster aid including the earthquake relief in Haiti, the earthquake relief in Chili and Tsunami relief in Indonesia. They expedited new passports and passport renewals for medical doctors, nurses, fire fighters and paramedics, police officers, church groups and citizens who contributed to food distribution. Their efforts continued beyond passports in a combined venture with the Nusantara, a surf boat charter in Indonesia funded in part by Travel Passport Visa Center, to deliver food and supplies to those in need. When asked about the most recent disaster Owner Adam Kranz remarked, "Our hearts go out to all the families ambushed by this disaster that were caught completely unprepared. Whatever we can do to help them survive this tragedy by helping the rescue workers get their passports as fast as we can is our personal contribution."
They can be contacted through their website http://www.TravelPassportVisaCenter.com or toll free at 877-448-5579.
About Travel Passport Visa Center:
Travel Passport Visa Center is one of the main providers of passport and visa services in the United States - including offering assistance in Spanish. We are officially authorized by the U.S. Department of State and work within the guidelines put forth by the Department of Homeland Security and the Bureau of Customs and Border Protection. We have more than 20 years experience in obtaining passports for U.S. citizens - we are the trusted providers for all major cruise lines, tour operators, International Fortune 500 companies and the casual traveler. Customer focus is the reason we have one of the highest satisfaction rates in the industry. Each client can reach one of the TPVC specialists by phone, though email, or even via live online chat. The corporate offices are located in South Florida with satellite offices in Washington DC, Houston, New York, Chicago, Philadelphia, San Francisco and Los Angeles.
###