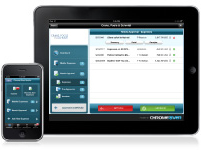 We continuously strive to provide our customers with the newest technologies to make their day-to-day lives easier.
Los Angeles, CA (PRWEB) March 22, 2012
Chrome River Technologies, a leading provider of expense reporting and invoice automation, announced today the release of Chrome River MOBILE, an exciting application that provides customers the ability to capture, create, and approve expenses while on the go, either while traveling or during hectic day-to-day schedules. In addition, users can view and approve third-party invoices from their iPhone or iPad. Like other Chrome River applications, the design and ease of use were created with the end user's needs in mind.
Chrome River MOBILE is available to subscribed Chrome River customers through an iPhone or iPad. The application is easily downloaded from the Apple App Store at no cost. This new module further extends mobility along with Chrome River's robust email-based capabilities.
"We continuously strive to provide our customers with the newest technologies to make their day-to-day lives easier," said Alan Rich, CEO of Chrome River Technologies. "Our customers want the ability to stay current with their travel expenses while they're in the office, at a client's site, at home or on the road, and Chrome River MOBILE provides them with the ability to do that very quickly and easily."
The Chrome River MOBILE app dashboard allows customers to look at summary views, enter expenses and send them directly to Chrome River. If a user is at a business dinner and a receipt is required for the expense, they can simply take a picture of the receipt with their mobile device and leave the hardcopy receipt behind. At the same time, the customer can enter the names of the guests for business meal purposes. It's all done right at the restaurant as soon as the meal is finished. The user can enter the expense and forget about it. Who needs to carry around all of those wads of paper receipts?
Chrome River MOBILE is also integrated with Chrome River INVOICE to allow users the ability to review and approve third-party vendor invoices that are in their queue for approval. The approver has the option to review a summary or detailed version of the invoice as well as the invoice image directly on their mobile device. The approver can choose to approve the invoice or return it to the submitter with a note requesting further action.
Chrome River is committed to keeping their end users happy with continuous enhancements and innovations that impress and make their lives easier. The addition of Chrome River MOBILE is another enhancement that adds significant value to Chrome River's expense automation product lines.
About Chrome River
Chrome River Technologies, Inc. provides expense reporting and invoice automation solutions that uniquely combine the latest available internet technologies with over 25 years of financial systems experience. Chrome River delivers immediate payback via a "Software as a Service" delivery model that requires no hardware, no software, and no long-term commitment. This unique service is easily configurable to meet the needs of organizations worldwide with complex expense management policies and collaborative approval processes. Additional information about Chrome River Technologies, Inc. and its solutions may be obtained by phone at 1.888.781.0088 or by visiting the company website at http://www.chromeriver.com.
MEDIA CONTACT
Connie Moser
Chrome River Technologies
Tel: 888.781.0088 x701
Email: connie.moser(at)chromeriver(dot)com
# # #