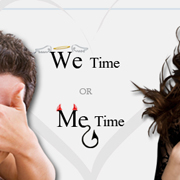 Me Time or We Time?
(PRWEB UK) 12 February 2013
Experience Days have been running a Valentine's Day experiment to find out if the UK is a nation of sharing givers or selfish lovers. So far in the promotion, results have revealed that it's too close to call between those choosing the 'selfish' option (pamper day for one, Topshop voucher) and the shared prize (meal for two at Jamie's Italian, Experience Days choice voucher). To spice things up, the bar is being raised to make this already very close race a little more racy. Given the choice, will it be me or will it be we.
This final Valentine's Day competition sees Experience Days, one of the UK's leading experience gift voucher retailers, team up with the queen of high street hi-jinks, Ann Summers, to give entrants the opportunity to choose between a memorable shared experience, or the most selfish love of all - by offering people the choice of either an experience voucher from the website, or a voucher for one of Ann Summers' huge range of naughty toys. Will entrants choose to share a memorable YOLO experience or enjoy a spicy 'solo' experience?
It is often said that before you can love anyone else (or have anyone else love you), you need to really love yourself. With the teaming up of Experiencedays.co.uk and Ann Summers, it will become clear just how far people are willing to go to, ahem… love themselves.
As of yet, it's anyone's guess as to whether participants are going to spread the good vibes or keep them all to themselves, however at this 'climactic' point of the competition, things should start to become a lot clearer. Keep an eye out for how the experiment is progressing – results will be released after the final giveaway.