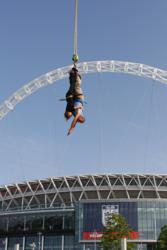 The Lovers Leap bungee jump makes a great Valentine's Day gift. It's a really bonding experience.
Brighton, UK (PRWEB UK) 2 February 2012
Experience Mad Director Steve Clark - who proposed to his (now) wife after their first bungee jump together in Cyprus - recommends the highest, most exotic and simply the most romantic locations for bungee-jumping couples in 2012.
Sun, sea... and a 300-ft leap of faith! Can bungee jumping ever be romantic? Yes, according to Steve Clark, Director of leading experience- and adventure-day company Experience Mad: "My wife and I did our first bungee jump together in Cyprus – the island of Aphrodite, goddess of love. And it was very romantic there on the beach – so much so that I proposed to her afterwards, and she said yes."
The appeal of bungee jumping lies in the incredible thrill of leaping into the air and plummeting towards the earth from a great height. Recently, the sport has gained popularity among adventurous couples, and 2012 looks set to continue this trend.
Steve's top destinations for bungee jumping this year are:
1) Kawarau Bridge, Queenstown, New Zealand – the world's first commercial jump and the only place in Queenstown where lovers can jump together.
2) Chang Mai, Thailand – a great destination in a beautiful location, and one which also offers the chance for couples to jump together.
3) Royal Gorge Suspension Bridge, USA – with a wooden-plank walkway 1,053 ft above the Arkansas River.
4) Mohanchatti, Rishikesh, India – a stunning setting in the foothills of the Himalayas makes this the perfect tandem bunjee jump location.
5) ltaVila Tower, Brazil – attracting bungee jumpers and sightseers with its sweeping views of Belo Horizonte city, surrounded by mountains.
For would-be jumpers without the funds to travel to one of these destinations, there are many attractive and exciting spots closer to home. And romantics need not worry about the lack of sun or tropical forest – Experience Mad's 'Lovers Leap' bungee jump offers thrills aplenty for adventurous types. After cuddling close and holding onto one another for dear life, Lovers leapers are treated to a small bottle of champagne to restore their sense of balance.
"Bungee jumping is something people never get bored of," said Steve. "Increasingly, couples are looking to take their love to new heights or mark a birthday, anniversary or even engagement by doing something just a little out of the ordinary. This year, sales indicate that our Lovers Leap experience is proving popular in the run up to Valentine's Day. Often one partner has done it before and loved it, and this time they want their other half to share the excitement. It's a great gift, because if the giver is one of the jumpers it's something they'll get to enjoy too. It's a really bonding experience."
Vouchers for activity days at Experiencemad are either sent out in beautiful presentation packs or can be emailed immediately as 'online' vouchers... the latter option is perfect for Valentine's Day gift buyers who have left it late.
About Experience Mad
Since 2003, Experience Mad has existed to share all the amazing experiences life has to offer with as many people as possible. They constantly search out new and exciting experience days at the best locations, in the best planes, trains and automobiles and at the best possible prices. For people who prefer to relax, the company offers spa days, hotel breaks and a variety of other treats.
# # #