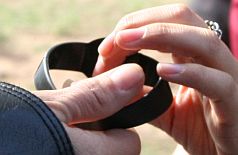 Pairing...event photography capabilities...with tracking tools like RFID bracelets...result in cutting edge experiences for consumers and impactful results for brands.
Houston, TX (PRWEB) May 02, 2012
Catch the Moment, the nation's leading provider of experiential marketing and photo activation services since 1998, has just released a video case study documenting a recent RFID (radio frequency identification) program conducted during a marketing tour that visited various division I college football games around the country during the college football season. This program tracked customer engagements while integrating social media to deliver remarkable performance metrics for two of the nation's most respected brands. Fans were wowed with the real-time Facebook integration of custom-branded photos and messaging as they took part in various sponsor activities.
Combining in-action footage from the on-site consumer engagement with social media screenshots to illustrate the real-time viral impact, the case study offers valuable insight about successfully conducting an RFID activation. The narration follows the program from its conceptual stages, through the development of a custom engagement solution, to its execution, and results. Please visit the following link to view this experiential marketing case study by Catch the Moment (registration required): http://www.catchthemoment.com/CaseStudies/Lists/Gate%20Request/RFID.aspx
"With the growing demand for integrated marketing solutions that allow brands to engage consumers, drive lead generation, and amplify social media marketing, photo activation remains the easiest and most cost-effective means for experiential marketing agencies to achieve an all in one solution," says Mike Kramer, Catch the Moment's National Marketing Director. "Pairing those event photography capabilities, such as green screen, with tracking tools like RFID bracelets, QR codes, and bar codes result in cutting edge experiences for consumers and impactful results for brands."
With field operations throughout the United States, and the ability to lease equipment for activations in the U.S. or overseas, Catch the Moment offers custom marketing solutions to experiential agencies and brands that are looking to enhance consumer experiences in public event settings of all kinds including sporting events, festivals, trade shows, and concerts.
To learn more about the company's services and offerings, contact Tracy Rawson at 877-895-8700, x126 or visit online at http://www.catchthemoment.com
About Catch the Moment:
Founded in 1998, Catch the Moment ignites events with custom affordable photo and video engagements that deliver measurable results for experiential marketing agencies and brands. The company has activated events for brands including Coca-Cola, McDonald's, Maxim, AT&T, MTV, Yahoo!, and many others.