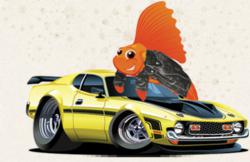 I feel as though people who realize the value in a good credit score are already actively working on maintaining them, but the truth is it's important for everybody to be as aware.
New York, NY (PRWEB) May 31, 2012
RoadFish.com men's lifestyle and finance magazine today urged readers to improve their credit scores by following the professional advice in a recent article by MSN Money. RoadFish.com observed that new reports claim that consumer credit scores have dipped to levels seen before the recession, and strongly advised readers to take a look at their own credit score and work on improving it if it was less than desirable.
Stacy Johnson of MSN Money referred to a credit score as the "distillation of everything in your credit history," pointing out that one's credit score can affect you in more ways than just insurance rates and premiums. Johnson proceeds to list 18 different tips on ways to improve a credit score since, as he points out, credit scores are not set in stone. Johnson's tips include seeking out and disputing errors on credit reports, raising your credit limit, and avoid closing accounts. Each of his recommendations is accompanied by an explanation for why such an action is important, how it will affect your credit score, and how to go about performing that particular piece of advice.
Johnson's report is especially timely considering the recent announcement by Experian Automotive, who just days ago stated in a press release that the credit scores of consumers who are applying for loans to purchase new or used vehicles have dropped to levels that have not been since before the recession. Experian Automotive's quarterly automotive credit analysis reveals that on average, the credit score for borrowers looking to purchase a used vehicle has dipped four points from the previous quarter and for new vehicles, they've decreased 6 points.
RoadFish.com's Senior staff writer is quoted as saying, "I feel as though people who realize the value in a good credit score are already actively working on maintaining them, but the truth is it's important for everybody to be as aware. I'm hoping that more people will realize the importance of sustaining a good score, and will take the necessary steps to improve their credit. The difference between having a poor score and a decent one can honestly mean the difference in paying thousands of extra dollars in certain instances, and as consumers in a nation just climbing out of a long recession, nobody needs to be spending that sort of extra money."
In the above-mentioned MSN Money article, one of the pieces of advice offered is to start early in order to repair a flawed credit history. Johnson states that it definitely does take time to mend a less-than-desirable credit score, that there is no overnight or quick fix. Johnson goes on to report that most consumers will generally not see improvements for over a month, possibly even a few months. He advises consumers to begin to actively work on repairing their credit history as early as one year in advance, and no later than six months earlier, if they are planning on making a big purchase that will require a lender to run their credit.
RoadFish.com applauded Johnson's tips for boosting a credit score and remarked that it hoped readers would heed his advice, echoing Johnson in stating that it takes advance work to turn a credit history around. RoadFish.com's Senior staff writer is quoted as saying, "The thing about credit scores is that they are reparable but it doesn't happen overnight, and it's something that requires diligent work and smart, conscious financial choices. The guidance offered in MSN Money's recent article is aptly timed since it appears that Americans need to do a bit of work to brush up on their credit scores. It is my hope that consumers will seriously analyze their personal credit and make improvements if necessary, to set themselves up for success in future situations where their credit will be looked at by potential lenders, employers, and even landlords."
Stacy Johnson is an author and personal finance reporter. He is the creator and host of "Money Talks," a personal finance news series that airs within the local news of 80 network-affiliated TV stations around the nation. "Money Talks News" is currently the longest running personal finance news series on network television.
About RoadFish.com
RoadFish.com is an online men's lifestyle and finance magazine targeted toward men in their 30's and 40's that have already attained a moderate level of success in life, and are striving toward more. It goes over current events of interest to this group, such things as exciting adventures, consumer interests, and musical heroes like Bob Dylan, as well as ways to make more and save more money. It is a publication owned by Purpose Inc.
# # #