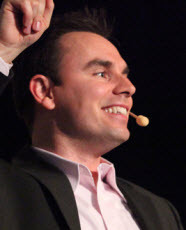 Business coaching and the personal development and self-help industry is considered to be one of the booming industries today.
Portland, OR (PRWEB) January 09, 2012
Brendon Burchard, the author of "Life's Golden Ticket" and bestselling book "The Millionaire Messenger" is preparing the launch of his latest edition of the Expert Academy program. This is much anticipated by those people who have attended Brendon's other events over the past years or did not get a chance to assure their spot in earlier releases.
Brendon addresses the needs of authors, speakers, personal coaches and marketers. The program is said to focus on building wealth on chosen field and expand from there. Although the launch date has not been revealed yet, Brendon is starting by release pure content training videos for free, so people will know what to expect on Expert Academy this year.
Expert Academy is said to be the stepping stone for people who are starting from scratch or are not advancing as expected, but want to make an income and difference by sharing their experience and offering advice to the world.
How are all these authors, speakers, coaches, seminar leaders, and online info marketers monetizing their life's story, advice, and experience? This is what is being covered in Brendon Burchard's Experts Academy program.
Readers of this press release who have never heard of Brendon and the Expert Academy can find his videos scattered all over the internet and read some of the Expert Academy reviews and watch customer testimonial videos. Brendon usually gains the visitor's respect and recognition by providing, previous to launching his new releases, a series of cutting edge training videos that people interested in this area don't want to miss!
On this occasion, the first, 50 minutes video, in this series is titled "10 Essentials for a Multi-Million Expert Empire". It covers subjects like:
-- 10 essentials that will help you build an "expert" brand,
-- 3 ways to position yourself as a high-value, highly-paid expert and
-- 4 products that add to a million-dollars in 12 months.
Business coaching and the personal development and self-help industry is considered to be one of the booming industries today. This is due to the fact that a lot of people are willing to pay for guidance on how to improve their business and lives. Brendon Burchard is considered to be a class on its own when it comes to his field. He inspires people by sharing his story. When he was 19, he met an accident that almost took away his life. From then on he decided to share his life to others, and from that point on his life changed completely.
At some point, every "guru" or expert decides they want to use their life's story or their how-to advice for helping other people to earn a real income and make a true difference. This video exemplifies that.
A lot of Events Academy customers are attesting that they get results by applying his strategies. This latest release could be the opportunity to get access to Brendon Burchard's guidance. Seats to the Academy are limited and doors close usually within days. Visit this review on the Expert Academy for a first-hand impression, and watch are more Expert Academy customer testimonials here.
To access the first video on the Experts Academy's series go here,
or here http://gplus-guide.com/expert-academy-prw-vid1
About the Expert Academy:
Experts Academy is training more experts and advice professionals than any other training program in the world on how to get published, get on stages, host seminars, become life and business coaches, and monetize their advice online.
About Brendon Burchard:
Brendon Burchard is the founder of Experts Academy and the #1 New York Times and #1 USA Today bestselling author of The Millionaire Messenger. He is also author of Life's Golden Ticket and one of the top business and motivational trainers in the world. His training events and videos, listed at the bottom of this page, inspire millions of people to start anew, find their voice, live more fully, and make a greater difference in the world.
Another true to life Brendon Burchard's story is all inspiring on its own. He went from bankruptcy to $4.6 million in the how-to space in just 18 months. Some of his accomplishments include:
-- #1 New York Times Best-selling author with books in 20 languages and over 200k eBooks downloaded
-- Spoken onstage with Tony Robbins, Sir Richard Branson, Dalia Lama, Wayne Dyer, Paula Abdul, Frank Kern, Jeff Walker and much more…
-- Seminars pulling 800 people at $2000-$10,000/ticket from 42+ countries
-- 100+ coaching clients paying $10,000-$35,000 a year
-- $4 million-plus online product launches and brilliant continuity programs
-- #1, #2 and #3 ranked affiliate for some of the largest online marketing campaigns in the last 12 months
Brendon recently appeared also on Anderson Cooper and ABC News and other television shows and radio programs.
To access the first video on the Experts Academy's series go here,
or here http://gplus-guide.com/expert-academy-prw-vid1
###