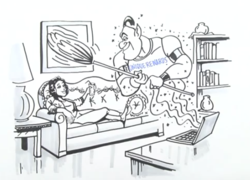 85% of people are more likely to buy a product after they see an explainer video about that product.
Saint George, UT (PRWEB) October 05, 2012
Explainer Videos Become More Popular in Marketing Circles
What many marketers are finding is that explainer videos are becoming increasingly popular throughout the world. Through many different statistics and research, there is no doubt that this has some validity. In Ydraw's new article showing how explainer videos are becoming more popular with marketing, one of the companies they highlighted was Video Rascal, who stated that 85% of people are more likely to buy a product after they see an explainer video about that product.
The positive effects of video can lead to an increase in conversion rates, retention of information in the brain, increasing in sales, and much more. These whiteboard animation explainer videos by Ydraw are amazingly engaging, and will catch the eye of any audience.
Another point that Ydraw focuses on is how explainer videos can cut the time explaining a product to a potential consumer, and allow them to feel relaxed and laid back while learning about a product, instead of uptight and not wanting to listen and learn, as in most cases with regular text or text and pictures. Text can be so intricate that people will not want to read it, because it requires a lot of concentration. This is where explainer videos are so amazing, because they require less concentration to get the message across to the viewer. This is especially true with whiteboard animation videos, which engage the viewer even more than a regular business product video.
Ydraw lists some popular examples of engaging explainer videos that other companies have produced, such as Apple, Google, Sham Wow, and others. There are many great examples of these kinds of videos everywhere.
For more information on how to engage viewers, get conversions, and produce more leads through explainer video, visit Ydraw or contact them today.