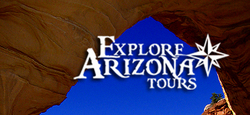 Lanham, MD (Vocus) August 26, 2009
In a time when the economy seems to be affecting every aspect of many people's lives, entertainment-seeking Arizonans, more than ever, are steering away from the dinner and a movie cliché and moving towards more adventurous activities. With the launch of the new website design, ExploreArizonaTours.com announces the addition of dozens of new Arizona tours designed for the action-seeking couples wanting to escape the boredom of every day life.
John Burks, a resident of Glendale, tells the story of how he and his wife escaped normality with a day of scrambling through canyons, climbing slick rock, rappelling from overhanging cliffs, and swimming in the rugged chasms of Salome Canyon, one of the drainages into Roosevelt Lake - a lake outside the Phoenix, Arizona.
"The group consisted of a tattooed couple from Los Angeles (Mark and Ashley), a traveler from Colorado (Jeff), and me and my wife, a young couple who haven't been on more than two hikes in our lives. It was obvious from the start that I did not have the experience that the rest of the group had. They were all people that looked like they did outdoor-type activities all the time. I am not much of an outdoorsman, but I had heard a lot about canyoneering and my wife and I decided that we wanted to substitute our typical evening activity with something more adventurous.
After we met our guide, John, and received our orientation, we geared up and started a hike on an old wagon road through the desert. We arrived to the "drop-in" point after about 30 minutes. John stood at the edge of the 30 foot cliff and explained that the drop-in point was the point of no return. It was the point of no return because we had to rappel down a cliff that and getting back up to the top was a very difficult task. Although this comment made us a little nervous, we followed the rest of the group as they ambitiously rappelled down into the deep canyon, flowing with water.
During this extreme outdoor adventure we hiked for several hours but spent most of our time scrambling, wading, swimming, and rappelling because that is what canyoneering is. Canyoneering is more than just hiking down a canyon a taking a few pictures. Canyoneering is everything wild and crazy that any thrill seeker would want. We arrived at many points where we were forced to rappel straight into a pool of water. Other places we all just dove off cliffs. Mark did more than just jump off the cliffs. He did a back flip off one rock that was about ten feet above the water. These were the most thrilling, challenging four hours of my life. Jumping off cliffs, rappelling, and scrambling on the slick rock of the canyon were things that I had never experienced."
Explore Arizona Tours hopes to generate more testimonials from couple like this one with the addition of more adventurous tours in Arizona. Because canyoneering in Arizona isn't the ideal escape for everyone, ExploreArizonaTours.com has added dozens of different options. Containing Sedona tours, Phoenix tours, and Grand Canyon tours, Explore Arizona Tours is dedicated to providing entertainment throughout all of Arizona. To see more adventurous activities you can go on with your loved one visit http://explorearizonatours.com/
About ExploreArizonaTours:
ExploreArizonaTours is an online booking agency cooperating with hundreds of tour operators across Arizona. ExploreArizonaTours has become a popular website to locate and purchase Arizona activities.
1-888-399-3531
Contact:
Tyson Bailey
Milton Ramsey LLC
480-540-1069
###