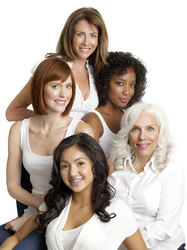 We are really excited to be working with ExploreModeling.com for our Face of e.l.f. initiative
New York, NY (PRWEB) September 16, 2009
In an effort to discover a female model to represent the e.l.f. Cosmetic brand for 2010 (http://www.eyeslipsface.com), the company has teamed up with ExploreModeling.com to launch a nationwide casting. Celebrating "Beauty at All Ages", women from 15 through 40 plus are encouraged to apply. This online-based casting kicked off Sept. 14, 2009, and will continue through December 31, 2009.
Models wanting to participate in this free, nationwide open casting should visit eyeslipsface.com or ExploreModeling.com to fill out an entry form and upload their photos (professional photos not necessary).
Entrants are encouraged to invite their family and friends to vote for them. The model with the most votes as of December 31, 2009 will receive a 4 day/ 3 night Luxury Included® Family Vacation for two adults and two children* to a Beaches Resorts destination in Turks & Caicos or Jamaica.
In January, e.l.f. Cosmetics and a panel of judges from the modeling industry, including Cristina DeHart (founder of ExploreModeling.com) and Tammy Green (Director of Miami's Green Agency), will select four females (one in each of the following age ranges)- one teen, one in her 20's, one in her 30's and one 40 plus. Those chosen will participate in a photo shoot in NYC and be featured on the EyesLipsFace.com website. At this point the public will vote for their favorite of four models to represent e.l.f. cosmetics in 2010. The "Face of e.l.f. 2010" will receive $1,000.00 in cash plus a "Make-Up for Life" package from e.l.f. Cosmetics.
"We are really excited to be working with ExploreModeling.com for our Face of e.l.f. initiative," stated Ted Rubin, Chief Marketing Officer of e.l.f. Cosmetics. "ExploreModeling.com inspired us to come up with the idea of Beauty at All Ages, which is perfect because e.l.f. Cosmetics is all about allowing women of all ages to spoil themselves without going broke."
Check out a video from a recent e.l.f. Cosmetics shoot-
http://www.youtube.com/watch?v=KF4Cwq23edU
About ExploreModeling.com:
Not to be confused with online social networking sites for models, ExploreModeling.com offers accurate and educational information, as well as powerful tools for aspiring models - including access to a database of more than 2,000 agency and casting director contacts worldwide and the ability to submit a portfolio to agencies via email or U.S. Mail.
For anyone who wants to learn about the modeling industry and become a successful model, the free video based content offered on ExploreModeling.com provides everything that's needed.
Cristina DeHart is available for in-person, on-camera or telephone interviews.
About e.l.f. Cosmetics:
e.l.f. Cosmetics was created in the belief that every woman should have the opportunity to experience luxury cosmetics without sacrificing budget. Since the brand's introduction five years ago, the e.l.f. Cosmetics website has grown to include 2 million members and is a popular destination for beauty fans looking for quality, affordable cosmetics, beauty advice and engagement with the brand.
Contact:
Amy Adams, PR Director
ExploreModeling.com
212-561-6855
http://ExploreModeling.com
Contact:
Ted Rubin, Chief Marketing Officer
e.l.f. Cosmetics
212-239-1530 x161
http://EyesLipsFace.com
###