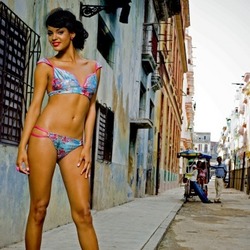 I am so excited to be teaming up with ExploreModeling.com again to find our next sexy Nicolita. Last year our winner truly embodied the character of Nicolita. I am hoping to find that again.
New York, NY (PRWEB) May 5, 2010
Nicolita Swimwear and ExploreModeling.com have teamed up again to discover one female to represent Nicolita Swimwear's 2011 collection (http://www.MyNicolita.com). This nationwide casting for models between the ages of 18 and 35 kicked off April 21, 2010 and will continue through June 25, 2010.
In mid-June, Nicole Di Rocco from Nicolita Swimwear and a panel of judges from the modeling industry, including Cristina DeHart (founder of ExploreModeling.com), will select one female to participate in a shoot and be featured on the MyNicolita.com website in conjunction with the launch of the company's 2011 line. The selected female model will also receive $500.00 in cash, plus $500.00 worth of Nicolita Swimwear product and $100 worth of Besame cosmetic product. The chosen winner will also have the opportunity of working with Anthony Neste photography in South Beach, Fl and will be given professional tear sheets for their portfolio.
Between April 21st and June 25th, participants should encourage their friends and family to vote for them, as the models who receive the most votes will win the Public Vote Contest and receive prizes that include Nicolita Swimwear and Beseme Cosmetics- http://www.besamecosmetics.com/.
Nicole Di Rocco, the designer of Nicolita Swimwear, says she is looking for someone that can embody the fictional Nicolita character. "Our first nationwide campaign with Explore Modeling was such a success; it was hard to pick just one person from our finalists. I'm excited to team up with them again. Ashton Shane (last year's winner) was awesome to work with. She embodied the Nicolita character – someone who is sexy yet sophisticated, flirty and fun", Di Rocco said."
About Nicolita Swimwear:
Nicolita Swimwear blends the essence of Cuba's nostalgic 1940s era with modern-day fashion silhouettes. This conservative sexy and curve conscious line of women's designer swimwear has captured the attention of the fashion industry's top magazine and celebrity clientele. For seven seasons, Nicolita continuous to offer styles that set trends in the swimwear industry with the use of unique tie-closures, embellishments and its signature fit of the 'Cuban-style' bottom that was designed for the curvaceous Latina figure. "'Cuban-style bottoms' are designed with more coverage on the hips, a heart-shaped backside and 'no-pinch' fit elastic," said Nicolita designer Nicole Di Rocco. These trend-setting styles, coupled with Nicolita's custom designed novelty prints, create a bikini collection that has built a loyal brand following worldwide.
In 2009, Di Rocco was able to fulfill her dream of traveling to her parents' homeland of Cuba for an incredible on-location photo shoot for Nicolita. Sí TV filmed her amazing journey and the reunion of her parents with their homeland and family after leaving 49 years ago. In this documentary, Di Rocco discovers the significance and inspiration of being Cuban American. To learn more information about the documentary, please visit http://SiTV.com/Nicolita.
About ExploreModeling.com:
Not to be confused with online social networking sites for models, http://www.ExploreModeling.com
offers accurate and educational information, as well as powerful tools for aspiring models- including access to a database of more than 2,000 agency and casting director contacts worldwide and the ability to submit a portfolio to agencies via email or U.S. Mail.
For anyone who wants to learn about the modeling industry and become a successful model, the free video based content offered on ExploreModeling.com provides everything that's needed.
Cristina DeHart is available for in-person, on-camera or telephone interviews.
Contact:
Amy Adams, PR Director
ExploreModeling.com
212-561-6855
Jenelle Decuir
Nicolita Swimwear
MyNicolita.com
310-593-4783
###