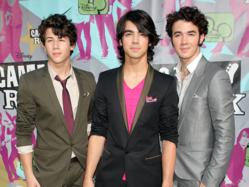 Los Angeles, CA (PRWEB) November 16, 2011
Explore Talent, a premier online social-network for industry insiders, released an exclusive video interview with world-famous music band, Jonas Brothers. Explore Talent is a professional social-networking site that connects actors, models, musicians and dancers in the United States. The online community has been responsible for new collaborations and business ventures in entertainment by connecting aspiring entertainment professionals with each other, and with news about casting calls and acting auditions. Therefore, Explore Talent has been responsible for countless models and actors getting acting jobs and modeling jobs. Explore Talent also helps aspiring entertainment professionals further their careers with contests that showcase their profiles to members of the social media community.
Today, Explore Talent released an exclusive video with world-famous boy band, Jonas Brothers. The members of the band are three brothers, Kevin Jonas, 24, Joe Jonas, 22, and Nick Jonas, 19. They got famous after starring in Disney Channel Original Movies Camp Rock and its sequel, Camp Rock 2: The Final Jam. Since then, they have released four albums. They were nominated for the Best New Artist Award at the 51st Grammy Awards in 2008, and won the Breakthrough Artist at the American Music Awards. They currently have two #1 debut albums within a ten months period, with their albums. Lines, Vines and Trying Times, and A Little Bit Longer, according to their website, http://www.jonasbrothers.com.
In the exclusive interview with the Jonas Brothers on Explore Talent's site, the brothers are asked about advice they can provide to aspiring musicians. The brothers advise fans to work, and practice hard!
Explore Talent's proprietary software and vast infrastructure is the most advanced entertainment-based technology of its kind. The site's popularity is based on the fact that there are many ways for talent to network, make friends and connect with other industry players, participate in wide variety of contests and earn prizes for being active on the site. The easy access to a pool of six million members attracts industry players who are posting every month about 50,000 new auditions and job openings which is 30 times more than any other site.
To see the video, and for more information on Explore Talent, go to http://www.ExploreTalent.com.
###