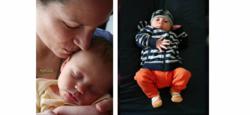 "He's so darn cute, isn't he?" Downey Jr. said about his son.
Los Angeles, CA (PRWEB) May 04, 2012
Explore Talent, a premier online social-network for talented individuals in the entertainment industry, announced a new blog on their news site today, titled, "First Photos of Robert Downey Jr.'s Son, Released," on the Tonight Show With Jay Leno on 5/3/12. The blog, (http://news.exploretalent.com/first-photos-of-robert-downey-jr-s-son-released/) states that "The Avengers" star, Robert Downey Jr. visited the set of "The Tonight Show With Jay Leno" on 5/3/12 to promote the
release of his movie, but the hot topic of the night wasn't the film, but his son, Exton. Born, in February of this year, the eight-week-old was on Downey Jr.'s mind during the interview.
The actor confessed that the last time he was on "The Tonight Show," he got into trouble with his wife, Susan: "I wasn't supposed to reveal the sex. When I got home it was not a really happy moment."
He then said: "I'd get in huge trouble" for showing a photo of Exton on live TV, but, then, he surprisingly added: "Well, if you want me to I will."
Downey Jr. then showed two adorable photos, one of Exton cuddling with Susan, and another of a solo shot of the baby. "He's so darn cute, isn't he?" Downey Jr. said.
The actor also explained the origin of his son's unique name: "My wife's great uncle was kind of eccentric. He lives in Madison, Wisconsin. When he was in the fourth grade he realized he didn't have a middle name, so he changed his name [to Exton]."
Explore Talent is a professional site that connects actors, models, musicians and dancers in the United States. The company posts blogs on their site so that members can stay up to date on celebrity news. The online community has been responsible for new collaborations and business ventures in entertainment. Explore Talent is responsible for countless models and actors trying out for acting jobs and modeling jobs and finding out about various casting calls. Explore Talent also helps aspiring entertainment professionals further their careers with contests that showcase their profiles to members of the social media community. Furthermore, the Explore Talent site features celebrity videos, exclusive interviews with actors, actresses, and musicians, such as Joan Rivers, Usher, Akon and T-Pain.
Explore Talent's proprietary software and vast infrastructure is the most advanced entertainment-based technology of its kind. The site's popularity is based on the fact that there are many ways for talent to network, make friends and connect with other industry players, participate in wide variety of contests and earn prizes for being active on the site. The easy access to a pool of over six and a half million members attracts industry players who are posting every month about 50,000 new auditions and job openings which is 30 times more than any other site.
For more information, please visit http://www.exploretalent.com