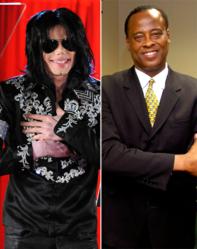 "He has absolutely no sense of remorse, absolutely no sense of fault and is and remains dangerous," Pastor said.
Los Angeles, CA (PRWEB) November 30, 2011
Explore Talent, a premier online social-network for industry insiders, announced a new blog on their news site today, titled "Dr. Conrad Murray Sentenced to Four Years in County Jail for the Death of Michael Jackson." Explore Talent is a professional site that connects actors, models, musicians and dancers in the United States. The company posts blogs on their site, so that members can stay up to date on celebrity news. The online community has been responsible for new collaborations and business ventures in entertainment. Explore Talent is responsible for countless models and actors getting acting audions and modeling auditions by finding out about casting calls. Explore Talent also helps aspiring entertainment professionals further their careers with contests that showcase their profiles to members of the social media community. Furthermore, the Explore Talent site features celebrity videos, exclusive interviews with actors, actresses, and musicians, such as Joan Rivers, Usher, Akon and T-Pain.
The blog details that all eyes in the Los Angeles County Courthouse were on Judge Michael Pastor yesterday, as he was about to sentence Dr. Conrad Murray. Found guilty of involuntary manslaughter in the Los Angeles County Courthouse (Case Number: SA073164), according to the Los Angeles Times, on November 7, 2011 (http://www.latimes.com/news/local/la-me-conrad-murray-20111108,0,4044841.story), the personal physician to pop star king, Michael Jackson, set silently while both prosecution and defense lawyers tried to give it one last time to persuade the judge. Prosecution attorneys insisted that based on Dr. Murray's testimony and interviews he gave after the trial had ended, he is not remorseful for Jackson's death, and keeps insisting he did nothing wrong. They want to see Dr. Murray be locked up for the maximum sentence of four years due to his negligent and irresponsible medical treatment of Jackson. Defense, on the other hand, urged the judge to let Dr. Murray was away with only probation, saying that Conrad was vulnerable to the high-status and fame of his now-deceased client, who was a drug addict, and demanded drugs.
Judge Michael Pastor sentenced the defended to the maximum of four years in prison. His reasons was that he felt Murray practiced "horrible medicine," and care more about his paycheck than his patient's health, according to the Los Angeles Times on November 30, 2011 (http://www.latimes.com/news/local/la-me-1130-conrad-murray-sentencing-20111130,0,4755417.story?track=rss).
The judge was also outraged to hear that Murray did not feel any remorse or guilt over his treatment of Jackson, repeatedly stating that he does not feel guilty in interviews.
"He has absolutely no sense of remorse, absolutely no sense of fault and is and remains dangerous," Pastor said.
Explore Talent's proprietary software and vast infrastructure is the most advanced entertainment-based technology of its kind. The site's popularity is based on the fact that there are many ways for talent to network, make friends and connect with other industry players, participate in wide variety of contests and earn prizes for being active on the site. The easy access to a pool of six million members attracts industry players who are posting every month about 50,000 new auditions and job openings which is 30 times more than any other site.
For more information on this blog, or Explore Talent, go to http://www.ExploreTalent.com.
###