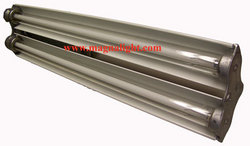 Dallas, TX (PRWEB) September 9, 2008
OSHA requirements mandate that workers exposed to flammable vapors or dusts be protected by UL certified lights that have an explosion proof class rating. And Magnalight.com now has a significant offering of these lights available for oil rig workers and paint spray booth operators. Explosion proof certified lights are typically Class 1 Division 1 for Groups C and D, indicating that the lights do not produce enough spark or heat to ignite petrochemical related vapors in a confined space. Magnalight.com offers explosion proof fluorescent lights that not only meet that safety rating but also are Class 2, Division 1, which means that are suitable for facilities containing combustible dust in a confined space.
"Our explosion proof fluorescent lights are suitable on oil and gas drilling rigs, inside all paint spray booths, grain elevators and sugar processing plants to name a few applications," stated Rob Bresnahan, President of Larson Electronics' Magnalight.com sales channel.
"We offer a good value on a heavy duty, high output, explosion proof fluorescent light that can be mounted on the ceiling, wall or floor," Rob continued. "We are seeing a lot of activity in just about every segment of the marketplace, from shipyards to cabinet manufacturers to aerospace, where OSHA has mandated the use of explosion proof lighting. Explosion proof fluorescent lights are cost effective and long lasting, while providing an even colored light source throughout the area to apply and inspect coated surfaces. Explosion proof fluorescent lights are as effective in a hazardous or potentially hazardous area location as regular fluorescent lights are in any office environment. These lights also carry a Class 1, Division 2 rating for Groups A, B, C and D and Class 2, Division 2 for Groups E,F and G, which means that manufacturing facilities, aerospace companies and paint spray booth operators in the manufacturing or automotive collision industries can use these lights both in and around their spray booths, where flammable and combustible materials may be present on an infrequent basis."
Larson Electronics' Magnalight.com offers a wide range of explosion proof lighting products for surface mount and portable applications. The recent addition of explosion proof fluorescent lights complements explosion proof tank lights, handheld fluorescent light and rechargeable high intensity discharge flashlights with UL compliant ratings of Class 1, Division 1 and Class 2, Division 1 ratings. With over 80 different explosion proof lights to choose from, Magnalight.com is rapidly becoming a leading one stop shop for the purchase and rental of explosion proof lights. Please see http://www.magnalight.com or call 1-800-369-6671 for more information.
###