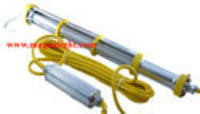 These new explosion proof drop lights represent our ongoing commitment to adding more options for workers in hazardous location areas
Dallas, TX (PRWEB) January 21, 2009
Larson Electronics' Magnalight.com is expanding its line of explosion proof lights to include new fluorescent handheld lights. Models like the EPLFL-26W-P-120-100 offer a plastic housing, lightweight form factor and 100 foot of cord to reach outlets outside the hazardous location area. Alternatively, the EPL-FL26-100 is an ultra-heavy duty 26 watt fluorescent light that features an aluminum chassis and aluminum ceiling hook. The EPL-FL26-100 is rated Class 1 Division 1 and Class II Division 1, so it is appropriate for environments laden with flammable vapors and pulverized dust. This model also comes with a 100 foot cord, so that operators can reach outlets that are well past the 20 foot boundary surrounding the hazardous location area. For users wanting an wider flood pattern for post paint spray booth inspection or in tank applications, the EPL-FL1524-25 offers a 2 foot long borosilicate contained fluorescent bulb is an aluminum rod cage. With an inline ballast, this extended length model is ideal for users looking for a heavy duty, handheld flood light that needs to cover a wider area.
"These new explosion proof drop lights represent our ongoing commitment to adding more options for workers in hazardous location areas," said Rob Bresnahan, President of Larson Electronics LLC. "We look to balance our addition of surface mount explosion proof lights, like our EPL-48-2L, Class 1 Division 1 paint spray booth approved light, with portable handheld fluorescent lights like the EPL-FL26-100. In general, explosion proof fluorescent lights are popular with all types of painting, finishing and inspection related activities, due to the even colored flood light they produce. While many of our incandescent explosion proof lights, like the EPL-120X12-100, are good for general area illumination, like fuel tank cleaning, the fluorescents are ideal for inspection activities, where color comparison and details are important," Rob concluded.
You can learn more about Larson Electronics LLC at Magnalight.com or by calling 1-800-369-6671.
###