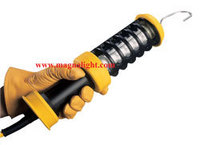 We have made an effort to include handheld explosion proof lights that vary in their construction, cord length, brightness and form factor
Dallas, TX (PRWEB) February 2, 2009
Larson Electronics' Magalight.com announces additions to its line of explosion proof drop lights. With UL safety ratings ranging from Class 1 Division 1 to Class II Division 1, explosion proof drop lights are designed to be used in hazardous locations where flammable vapors and/or dusts are present.
"We have made an effort to include handheld explosion proof lights that vary in their construction, cord length, brightness and form factor," explained Rob Bresnahan, President of Magnalight.com. "Recent additions include the EPL-FL1524-100, a 2 foot long explosion proof fluorescent light with a 100 foot cord, for wide area coverage. The EPL-FL26-100 is a compact explosion proof, 26 watt fluorescent light with the ballast embedded in the handle, which eliminates dragging an inline transformer through the work area. For operators, needing a spotlight type of inspection light, the Class 1 Division 1 EPL-50W-120X12-50 is a powerful handheld spotlight for inspecting tanks, fluid levels, etc."
Rob continued, "In addition to corded handheld hazardous location lighting, we offer explosion proof string lights as well. By connecting 10 drop lights with 75 watt bulbs to a single heavy duty cord backbone, the EPL-SL-10X75-120V becomes a wide area work light configuration. Powered from a single plug, each light can be hooked to different spot overhead, enabling operators to position the lights in a way that best illuminates the work area."
"Recognizing that not everyone wants to drag a cord around, we also added several battery operated explosion proof lights. Our simple LE-2206 Class 1 Division 1 lantern and LE-224 flashlight are inexpensive battery powered hazardous location lights. The EXP-LED-F4W is our brand new explosion proof LED flashlight. Operators get long battery life and 200 feet beam distance without ever having to replace the flashlight bulbs. This is a first battery powered, lightweight, explosion proof LED light of its kind.
For operators needing more power, we have a Class 1 Division 1 metal halide flashlight that delivers 20 watts of power and 1300 lumens. With the rechargeable ATX-20S, operators can point the beam at distances of 1000 feet and see clearly. Even in flood mode, the ATX-20S delivers a white, bright beam to 400 feet. Alternatively, we have the EXPRL-95, an intrinsically safe LED flashlight that delivers a spot and flood beam with up to 18 hours of run time on a single charge for users that need ultra long battery life."
Rob explained, "We are actively responding to the needs of our customers, delivering portable lighting powered by an electrical outlet, replaceable batteries or rechargeable batteries. At the same time, operators can choose incandescent, fluorescent or LED lights sources. This enables our customers to select the best combination of explosion proof drop light features for their particular hazardous location area," Rob summarized.
You can learn more about Larson Electronics LLC at http://www.magnalight.com or by calling 1-800-369-6671.
###