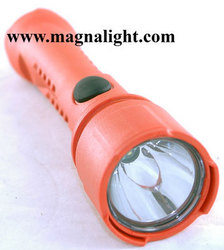 Dallas, TX (PRWEB) October 31, 2008
In an ongoing effort to extend their line of explosion proof and intrinsically safe flashlights, Larson Electronics' Magnalight.com has added new LED flashlights. OSHA mandates the use of UL Class 1 Division 1 safety rated lights when working in areas with flammable gases, including methane, chlorine and other petrochemical based gases. UL Class II Division 1 rated lights are mandated for environments laden with combustible dusts, like grain silos and sugar refineries. Magnalight.com offers a wide variety of explosion proof lights and intrinsically safe lights that can be used in these hazardous location areas.
"We have always looked to create portable explosion proof lighting options, starting with our 400 watt, wheeled tank cleaning lights and adding out wheeled cart based fluorescent lighting fixtures for paint spray booths," said Rob Bresnahan, President of Larson Electronics. "These intrinsically safe LED flashlights are the ultimate in portability. We offer a rechargeable model, EXPRL-95, which produces both and flood and spot beam and the EXP-LED-F4W, the ultra popular, battery powered LED flashlight under $30. There are not very many choices for intrinsically safe, durable, bright flashlights under $30. Furthermore, the implementation of LED in handheld lighting is changing daily. The quality of the LED, the type of driver board and position in the reflector make a big difference in the output. LEDs flashlights have always delivered longer battery life and long life, but now they can deliver really intense beams as well. The evolution of the LED is occurring rapidly. We learned a great deal about LED lighting from our LED light emitter bars, which helps us to make better choices when it comes to our intrinsically safe LED flashlights."
Magnalight.com offers a wide array of lighting for industrial and military applications. Known for its Escalation of Force HML-5M 24 volt spotlight, which is provided to all deployed soldiers in Iraq and Afghanistan, Larson Electronics has been manufacturing and selling industrial grade lighting for 40 years. Larson Electronics' Magnalights can be found in the utility, manufacturing and petrochemical industries throughout the world. You can learn more about Larson Electronics LLC at http://www.magnalight.com or calling 1-800-369-6671.
###