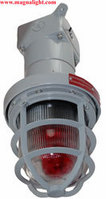 Dallas, TX (PRWEB) October 7, 2008
On the heels of its introduction of a cost effective explosion proof fluorescent light fixture for paint spray booths, oil rigs and manufacturing plants, Magnalight.com announced the release of a new explosion proof strobe light. This explosion proof strobe light works on 110 volts for US use and 230/240 volts for international applications and carries an IP67 waterproof rating as well as a UL Class 1, Division 1 rating for groups C and D.
"After the popular introduction of our explosion proof fluorescent paint spray booth lights," explained Rob Bresnahan, President of Larson Electronics, "customers asked for an explosion proof emergency light. We responded with a Class 1 Div 1 fluorescent light that included a battery that fulfilled the requirement for a 90 minute run time emergency light, while operating as a functional fluorescent light for paint spray booths. We delivered these fixtures at an attractive price point with higher light output than most other options in the marketplace. We gave our customers more light output for less money. Then, those same customers came back to us and asked for a more cost effective explosion proof strobe light. Our new EPSL-80-R Class 1 Div 1 red strobe light is available under $900. Basically, we are in a position to meet all of our customers needs and it relates to OSHA compliance. We started out point solutions, like our explosion proof, cart mounted 24 inch tank light and paint spray booth lights. Now, we are branching out to accommodate the OSHA safety requirements throughout the facility."
Larson Electronics' Magnalight.com offers a complete range of explosion proof lights including, hazardous location flashlights, rechargeable lanterns, explosion proof string lights, hand lamps, intrinsically safe fans and cart mounted tank inspection lights. In an ongoing effort to improve their one stop shop convenience for petrochemical companies, refineries and manufacturing plants of all kinds, customers can purchase or rent hazardous location lights from Magnalight.com. Larson Electronics also designs custom solutions for customer applications, many of which can be found in the aerospace industry. You can learn more about Larson Electronics at http://www.magnalight.com or by calling toll free, 1-800-369-6671.
###