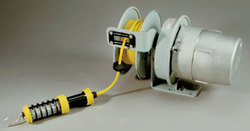 Sometimes operators can use a lower cost reel that is situated outside the hazardous location area, but more often aerospace and military operators are looking for Class 1 Division 1 lights and reels that can be mounted in the hazardous location area
Kemp, TX (Vocus) March 3, 2010
Magnalight broaden its line of explosion proof extension lights by offering a 26 watt fluorescent handheld light with explosion proof reel with 90 foot of SOOW integrated cord. While the existing Magnalight range of explosion proof handheld lights are available in cord lengths ranging from 25 feet to 100 feet, the EPL-FL26-90-HR and EPL-FL26-50-HR are available in 90 foot and 50 foot cord lengths as stock models. Custom configurations are available for longer cord lengths. Both the hand lamp and the reel carry a Class 1 Division 1 rating for hazardous location environments. Operators generally look to wire the reel to a junction box and the reel is used to keep the cord organized, reducing trip hazards and other common issues related to long cords.
"Sometimes operators can use a lower cost reel that is situated outside the hazardous location area, but more often aerospace and military operators are looking for Class 1 Division 1 lights and reels that can be mounted in the hazardous location area," explained Rob Bresnahan with Larson Electronics' magnalight.com.
Larson Electronics' magnalight.com offers a wide range of Class 1 Division 1 lights and Class 1 Division 2 lights, including linear fluorescent lights, intrinsically safe LED flashlights, cart mounted paint spray booth lights and a wide range of metal halide and incandescent surface mount lighting. Many of these hazardous location lights, including the EPL-48-2L series are also rated Class 2 Division 1 for dust oriented hazardous location areas. Magnalight.com carries an extensive inventory and many smaller items and the explosion proof fluorescent lights typically ship same day, while larger tripod mounted lights and cart mounted lights ship within a week's time.
###