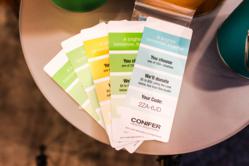 It's the most amazing booth activity we've ever done.
Seattle, WA (PRWEB) May 01, 2013
TisBest Philanthropy launched ExpoGiving, a new trade show product, today during the Business4Better Conference and Expo in Anaheim, Calif. ExpoGiving enables an exhibiting company to make a single charitable donation and invite booth visitors to direct portions of that donation to the charities of their choice.
"People love to give money to good causes, especially if it's somebody else's money," said Jon Siegel, TisBest Executive Director. "ExpoGiving uses money that normally goes to trade show tchotchkes and funnels it to charitable organizations that fight hunger, work to end homelessness, conduct medical research, and take environmental action."
ExpoGiving is built on TisBest's charity gift card platform, which allows businesses and individuals to give charitable donations as gifts using a custom TisBest Charity Gift Card. ExpoGiving expands on TisBest's traditional gift card model by offering trade show exhibitors the opportunity to integrate a branded charity gift card giving experience into their trade show booth. Booth visitors are given a TisBest code, which can be printed on virtually any branded marketing material, and then invited to give the dollar value associated with that code to the charity of their choice. Code redemptions are done in the booth on tablet computers, an experience that engages booth visitors in an exciting and meaningful way.
"It's the most amazing booth activity we've ever done," said Conifer Health Solutions Marketing Manager Tricia Wilkerson. "I've been a marketing manager for a long time and we've never seen a better response from booth visitors than with ExpoGiving."
Conifer Health Solutions created branded handouts that included TisBest ExpoGiving codes. Employees worked with each booth visitor to redeem their code in the Conifer booth, until the entire $2,500 original donation made by Conifer had been designated to charities chosen by booth visitors.
"One of the most unique aspects of ExpoGiving is the opportunity for exhibiting companies to tie their event marketing efforts into their corporate social responsibility strategy," Siegel said. "The focus of the activity is identifying causes that are important to the booth visitor, which easily and naturally eliminates emotional barriers and associates the exhibiting company's brand with that positive activity."
"This is unique, accessible and simple," said Megan Strand, Director of Communications for Cause Marketing Forum. "ExpoGiving can help businesses of any size effectively and meaningfully communicate their CSR messaging in a crowded event setting."
When a code is redeemed, one hundred percent of the face value is donated to charity. TisBest covers its operating costs by charging a modest administrative fee on top of the face value of the codes, making an ExpoGiving donation a viable source of funding for the charities chosen by booth visitors. The additional benefit of reducing the environmental impact of discarded trade show handouts is another draw for green-minded businesses.
"This is a very green initiative," Siegel said. "What we're talking about is sending marketing dollars to worthy causes and charitable organizations rather than to the landfill, which is the ultimate destination for most trade show tchotchkes. If we're going to give something away, let's give a gift of good, rather than a piece of junk that ends up in the hotel wastebasket."
According to the Center for Exhibition Research (CEIR) there are over 13,000 events in the U.S. each year with at least 3,000 net square feet of exhibit space per event. There are hundreds of thousands more meetings, conferences and congresses.
"Trade shows are still an important part of the marketing mix for many companies, large and small," Siegel said. "We believe that a charitable offering that engages booth visitors in meaningful conversation is a great choice for the thousands of businesses that will be exhibiting every year.
"If businesses can demonstrate their commitment to CSR right in the trade show booth using ExpoGiving, they will make lasting connections with booth visitors that wouldn't otherwise be possible," he said. "And to do so while simultaneously helping the world through their ExpoGiving charitable donation? Well, that's just a positive outcome for everyone."
To learn more about ExpoGiving, go to http://www.TisBest.org/ExpoGiving.
About TisBest Philanthropy
TisBest Philanthropy is a 501(c)(3) nonprofit organization dedicated to fostering the growth of non-material gift-giving. TisBest created charity gift cards in 2007. Charity gift cards work like conventional gift cards, but with one important exception: the recipient of a charity gift card "spends" it by choosing a charity to receive the funds.
With a TisBest Charity Gift Card, you make the donation and your recipient decides how to spend the donation, choosing from TisBest's 300+ charity partners. Learn more at http://www.tisbest.org.