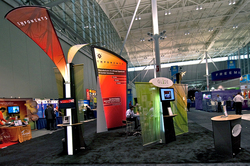 San Diego, CA (Vocus) July 23, 2010
Exponents, an Insta Worldwide Group Company, has won a prestigious Breakthrough Award for its newest offering; the L2™ illuminated exhibit system. The award was presented at TS2, held July 13-15, 2010, at the Boston Convention and Exhibition Center in Boston, MA. TS² is sponsored by the Trade Show Exhibitors Association (TSEA) and showcases the industry's leading companies and products. Breakthrough Awards recognize the show's best new products or services.
Elizabeth DeLuca, Exponents' Vice President Sales & Marketing said, "This award is especially important to us because it is decided by the attendees of TS2 - exhibit managers from the world's largest 'Fortune 500' companies. Only three products were so honored. And Exponents' L2 modular system was the only exhibit system chosen."
The idea behind L2 is brilliant: a proprietary, internally-lit channel turns an entire exhibit into a light source. By combining two simple elements -- towers and kiosks -- L2 creates dramatic angled structures, while keeping assembly simple and shipping costs low.
The system was created for budget-conscious large-scale exhibitors who value impact. Lighter weight and increased flexibility drove L2's development, with a key feature being the system's ability to reconfigure to fit a remarkable range of booth sizes. Exhibitors can add accessories over time to change its look and function, increasing the return on investment. By using L2 in the Exponents exhibit at TS2 2010, the company was able to:

Build more presence with less material
Combine illuminated kiosks and towers with huge fabric graphics to create a striking presence that communicated the company's message beautifully
Keep show costs low by packing and shipping in just a few rolling cases
Complete details are available from any Exponents dealer or by calling 1-800-451-4723. Additional information is also available at http://www.exponents.com.
About Exponents:
Exponents is one of North America's most highly respected custom-modular exhibit designers and manufacturers. Thriving on innovation, the company has won numerous awards while helping its clients to achieve their trade show goals for over 28 years. Exponents became an Insta Worldwide Group Company in October 2009. Visit Exponents at http://www.exponents.com.
About The Insta Group:
The Insta Group provides global exhibit solutions and offers an extensive range of innovative products and services to help customers achieve their objectives at exhibitions and events around the world. Based in Mumbai, India, the company currently employs 550 people and has operations in 11 countries on 4 continents. Visit the Insta Group at http://www.insta-group.com.
###