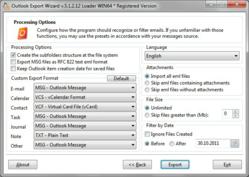 Get Export Wizard with 30% Discount. Use the coupon code: PRWEB30
Toronto, ON (PRWEB) August 09, 2012
There are several reasons why a user might need to export data from Outlook. Most of the time, the action is performed to make copies of a user's email archives in order to export them to a different email client. This entails a conversion of PST to EML files, and without Outlook Export Wizard, it can be awfully tricky.
Outlook Export Wizard [ DOWNLOAD ] is a fast, compact, and convenient data export tool that allows users to covert PST files (email, calendar items, tasks, and more) into other formats, including MHT, VCS, TXT, VCF, HTML, RTF, MSG, and EML file formats. EML files can be converted into HTML pages for publishing online or addition to an Intranet portal. They can be converted into World Documents, and more. Any EML file can be extracted and manipulate for a variety of purposes. The software will even preserve the folder structure so that the PST file is easy translated into any number of different file formats. Worried about attachments? They are easily extracted using the wizard, so that no important data is lost.
The interface is easy to use and intuitive, making it so even the most basic of computer users can use the tool. The wizard performs a step-by-step scanning, preview, and modification option process to the files, intelligently analyzing the data and converting the files with no trouble.
The best thing about Outlook Export Wizard is that it can be used on virtually any computer, even an old one, so that those files that you thought were gone for good can now be accessed easily.
Today Offered with 30% Discount:
Today all PRWEB readers may purchase the Outlook Export Wizard software using our special coupon code. Enter and apply the coupon code PRWEB30 at order page to receive 30% discount on your purchase.
Free Email Processing Software:
Our team have started development of free tools for email extraction. Now anyone have opportunity to use the powerful software to extract emails from Mac Mail, Entourage, Thunderbird, The Bat! and Turnpike mailboxes absolutely free of charge.
Find more about free products at our site.
Official site: http://www.outlookimport.com/
Outlook Import, Export and Recovery Wizards.