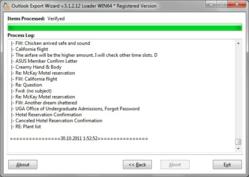 30% discount coupon: PRWEB30
Toronto, ON (PRWEB) August 27, 2012
Email stores so much important information – proposals, statements of work, financial information, passwords, account information, and more – but if the emails are in Microsoft Outlook format, there is no built-in way to export those files into another format for either manipulation or the transfer to another email client.
This tool – the Outlook Export Wizard [ DOWNLOAD ] , fills that gap in the impressive Microsoft system and makes it so that those Outlook files can be saved and converted in mere minutes. This wizard does not impact the source files, it merely makes a copy of the files in a way that allows them to be saved in a new format, all the while preserving folder structure, subject structure, and other information.
The user does not need to be an experience computer expert in order to use the wizard. All the user needs to do is follow the instructions on screen to export their Outlook files safely into a different format (formats include Word files, HTML files, .msg, .eml, .txt, .pst., and .rtf). The different formats allow the user to use the data inside the Outlook email files in different ways.
The root folder is accessed by the wizard, and the wizard allows the user to preview the results. Once the user chooses the files to export, the Outlook Export Wizard exports new versions of the files without corrupting the original source data. The Outlook Export Wizard is compatible with the 32-bit and 64-bit versions of Outlook, and can handle email files, notes, journal entries, calendar items, tasks, contacts, and any files contained in the Outlook files.
It is safe and easy to use, and inexpensive to boot.
Software Site: http://www.outlookimport.com/
Software Purchase: http://www.outlookimport.com/purchase/outlook-export-wizard/
Software Instruction and Screenshots: http://www.outlookimport.com/outlook-export-outlook-backup/