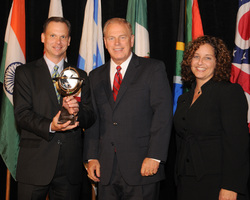 , this is highly renowned and sought after accolade to achieve, in our industry.
Cincinnati, OH (PRWEB) September 11, 2009
Freeman Schwabe Machinery based in Cincinnati, Ohio was selected to receive a 2009 Ohio Governor's Excellence in Exporting Awards (E-Awards).
Greg DeFisher, President and CEO of Freeman Schwabe Machinery, said "We are extremely excited and proud to be selected for the Governor's Excellence in Exporting Awards, this achievement reflects a total team effort by everyone at Freeman Schwabe".
Freeman Schwabe was one of a small and select group of companies honored at a luncheon and award ceremony with Governor Ted Strickland on August 26 2009 in Columbus.
Freeman Schwabe is a USA and Global OEM of Die Cutting Presses, Cutting Machines and Automatic Cutting Systems supplying a wide range of industries in the USA and Worldwide. The company also supplies all accessories for die cutting systems, including parts, service, adhesive, & cutting surfaces.
Greg DeFisher, President and CEO of Freeman Schwabe stated that "Freeman Schwabe has worked tirelessly to reach customers in a variety of key markets in the die cutting industry across the world. A major international achievement for Freeman Schwabe was to become a main supplier to some of the major automotive components manufacturing companies, including Lear Corporation,Takata, and Toyota Boshoku. These companies (among many others) have helped Freeman Schwabe's die cutting systems to be placed in 6 of the 7 continents".
A key Sales and Marketing investment by Freeman Schwabe is that the Freeman Schwabe Technical Support is available 24 hours/day, 7 days/week to ensure that service is available to all different time zones around the world. The company also has service offices located in California (for assisting customers in Mexico), Romania (European customers), and China (for customers in Asia).
Greg DeFisher added, " Another recent and significant accomplishment is that Freeman Schwabe was recently chosen by the 3M Company to be a global "Preferred Supplier", this is highly renowned and sought after accolade to achieve, in our industry."
"Also Freeman Schwabe has embraced the opportunities offered by the Internet from its introduction, and the company web site http://www.freemanschwabe.com is regularly updated and promoted on Google and Yahoo".
DeFisher explained "The Freeman Schwabe company positioning is reflected in our contemporary and innovative web site design, and comprehensive product information & data and in our efforts to make the web site architecture more customer centric. We worked with a local Cincinnati based internet marketing company to optimize our web site with all the leading search engines (Search Engine Optimization), which made a significant improvement in our internet visibility with higher search rankings and as a result increased RFQ's received from the web site by 400%."
Freeman Schwabe has executed numerous efforts to travel abroad to win orders internationally, the company also implemented improvements to ensure that exporting of company machines goes smoothly.
This includes working with freight forwarders so all proper precautions are taken as well as working with customers to communicate effectively the shipping requirements of their equipment.
Freeman Schwabe's personnel based at their have also attended numerous exporting seminars, which detail customs requirements and tariff codes, as well as to learn about the proper procedures, which must be taken for exporting to different countries.
DeFisher added "In late 2008 were able to achieve CE Safety status necessary to ship into the European Union for our machines. This certification should allow us to grow our business in this difficult market significantly."
Freeman Schwabe is expanding the company manufacturing base, by offering Renewable Energy Solutions, in the form of a complete turnkey factory solution for Solar Module Manufacturing and in Wind Power providing Composite Cutting Machines for Wind Turbine Blades and other components.
For more information or details on Freeman Schwabe please contact Sarah Judge sjudge(at)freemanschwabe.com directly at Freeman Schwabe.
###