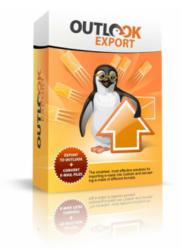 ultimate solution that helps users export Outlook emails and contacts with just a few mouse clicks.
Sacramento, CA (PRWEB) February 25, 2013
Outlook Import ( http://outlookimport.com ), a company known for its family of reliable, fast and functional data extraction, conversion and migration solutions, is pleased to announce the recent release of the improved version of Outlook Export Wizard, a specialized tool for extracting standard Outlook objects into a number of formats suitable for immediate import into alternative applications. The new version features an improved data analysis and extraction engine that offers higher Outlook data extraction speed even from extra large source files.
The program allows users to export Outlook emails and contacts with just a few clicks, turning this seemingly complex task into a series of self-explanatory steps of the built-in export wizard. The program can be used for hassle-free transfers of email messages and contacts to alternative email clients and for creating full or selective backups of Outlook data. Outlook Export Wizard preserves the folder structure of the source PST file by recreating it in the specified destination folder. Export of Outlook emails and contacts can be performed into a number of formats, including EML, MSG, RTF, HTML, VCF (vCard), TXT, MHT, VCS (vCalendar), iCS (iCalendar) and TNEF.
"Outlook Export Wizard was created with a single purpose of letting users export Outlook emails and contacts to their hard drive for further processing. Since the release of the first version of the program, it has become a lot faster, more stable, and users have discovered new ways of using it, such as exporting emails to HTML for immediate publishing on the web or creating selective backups of Outlook objects. The newest version is the same good old Outlook Export Wizard, but slightly refined and improved to give users more speed and stability," explains Atie Uhan, Head of Development at Outlook Import.
The program is available for download from the official site http://www.outlookimport.com/ and has been tested for viruses and spyware using leading anti-virus tools.