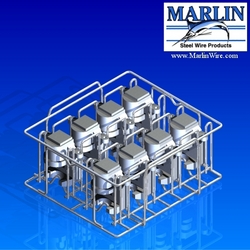 the lower dollar has been like wind behind my sails.
Baltimore, MD (Vocus) October 20, 2009
Exporting Stainless Steel Wire Baskets and Custom wire forms throughout the world is supercharging Marlin Steel Wire's growth in 2009 over a record year in 2008. In the last four weeks, Marlin Wire has exported to:
Taiwan - stainless steel custom wire baskets
Australia - metal baskets
Brazil - fabricated wire baskets
Ireland - telecommunication wire forms
Singapore - complex wire forms
Mexico - wire baskets
Marlin Steel Wire's President Drew Greenblatt told the Los Angeles Times this week "the lower dollar has been like wind behind my sails." Greenblatt went on to project that exports will make up 25 percent of his
business this year, about "twice as much as in 2008."
Greenblatt continued to the Los Angeles Times that foreign buyers act "It's as if we're having a sale," and these "foreign sales are saving my bacon."
This torrid pace of international clients demanding custom wire baskets from Marlin Steel Wire has caused Marlin to double the size of its engineering staff since the start of the year and to work two and three shifts in the last two months with overtime for many of its employees. Hiring four people to keep up with demand has helped keep up with the surge in export business.
Two of the four people hired this year are design engineers. Marlin Steel Wire's strategy with industrial wire baskets is to make the prints super fast for the manufacturing engineers with wonderful ingenuity so that the clients are saving money by improving throughput and reducing scrap. The talented designers are probing the manufacturing engineers so they understand the fit, form and function of the project.
Manufacturing Engineers are challenged by their plant managers to improve flow, reduce scrap and do everything with less people. Greenblatt told a recent manufacturing engineer representing a European industrial wire basket client that Marlin Wire "focuses on identifying techniques to optimize a basket so that the manufacturing engineer is a hero."
An additional strategy to keep up with the dramatic export demand, Marlin Steel Wire has purchased three robots in less than a year. This investment back in the company has improved the productivity of the workforce.
Simon Matthews, Marlin WIre's Plant Manager told US Senator Ben Cardin on his recent trip to Marlin that "Quality issues have declined because the robots are taking over a larger content of the total project. Mundane, repetitive and unsafe steps are perfect for the robots to chew away on and the quality surges."
###