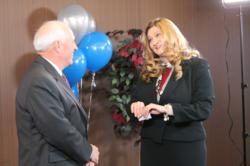 I'm honored to have been awarded an Express franchise and I'm confident the Lakeland location will be successful
Oklahoma City, OK (PRWEB) January 29, 2013
An astonishing 11.7 percent of military veterans returning from active duty come home unemployed. In honor of their bravery and sacrifice for America, Express Employment Professionals is making a significant investment toward the future of several veterans.
Florida resident and 21-year United States Army veteran C.J. Marcello is the first veteran to be awarded an Express Employment Professionals franchise as part of the company's veteran program. For the first five veterans who are awarded a franchise in 2013, Express is waiving the franchise fee.
"I'm honored to have been awarded an Express franchise and I'm confident the Lakeland (Fla.) location will be successful," Marcello said. "Express Employment Professionals' highly structured franchise system plus my own military background creates a proven framework for success."
Awarding Marcello's franchise is Kalli Britton, corporate developer for Express. For Britton, a Navy wife, being part of this surprise presentation is a cause that hits close to home.
"With my personal relationship to the military, I understand the sacrifices and challenges that veterans face every day," Britton said. "I'm honored to award Marcello's franchise and continue to support our veterans, who give us so much to be thankful for."
Marcello, who retired from the Army as a lieutenant colonel, served as a senior aviator, company commander and operations officer in Korea and Panama as well as at various domestic bases and U.S. Central Command. After retiring from the military in 1993, he moved to the nonprofit sector. His lifelong passion for equestrianism led him to executive positions with the Paso Fino Horse Association, the Besilu Collection, and the Florida Agriculture Center, where he streamlined business practices and improved efficiency across the board.
In 2012, he decided to pursue another career goal – this time to business ownership. After considering a number of franchise opportunities, he ultimately selected Express Employment Professionals because of the continued growth in the staffing industry and the supportive Express family.
"Working in the nonprofit sector and helping others turn their businesses around was fun, but I wanted the chance to do it for myself," Marcello said. "Plus, as a staffing firm, Express is catering to a real need in today's world and helping people find jobs."
The company plans to add 48 additional locations in 2013, targeting strategic markets in 30 states and Canada. In Florida, Express currently has 20 locations and plans to add seven additional franchise offices within the next few years.
Although Marcello is still in the early stages of his business, he already has his sights set on the future. He holds the rights to the greater Polk County area, and plans to expand across the territory with additional offices in the next few years.
Express Employment Professionals helped nearly 400,000 people find jobs in 2012. With more than 600 franchises in three countries, Express provides expertise in evaluation hire, temporary staffing, professional search and human resources. For information about purchasing an Express franchise, visit http://www.expressfranchising.com. For more information about Express and its services, visit website below.