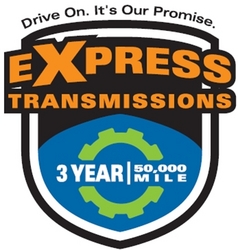 "We couldn't be more excited about where Express Transmissions is heading," Mario says. "We pride ourselves on providing the best quality to our loyal customers, so this shop is just another way to make sure our service is always improving."
Stockton, CA (PRWEB) February 26, 2010
Mario Jauregui has been in the transmission repair industry for most of his life. So when he and his wife, Maria, opened Express Transmissions just two years ago, he couldn't have imagined where they'd be today—especially considering the state of the U.S. economy. He and his staff are preparing to move into their new-and-improved facility, which officially opens April 5, 2010.
The new Express Transmissions location at 4825 West Lane in Stockton is just a few blocks away from their current shop, but it's miles away in terms of its service capabilities. The new building and its lot are significantly larger, and their number of auto lifts will be almost doubling (from five in their old garage to eight in the new one—with the capacity to add six more if needed). The new lot is also fully fenced and features better security to allow them to keep more customer cars protected while being serviced. "We were already proud of our old facilities, but this new shop is truly a dream come true for us," Mario says. "It's exactly what we've been striving for."
What made this dream possible for Express Transmissions is the incredible success the shop has had since opening its doors in 2008. Mario was a seasoned transmission expert who's been working around cars since he was a teenager and had already owned one successful local shop in the past. So he knew what it would take to get the business off the ground. Marketing has had a huge impact on their success, and so has a niche focus of only transmission service, repair and rebuilding (which is all done in-house). Yet nothing has been more important than establishing a reputation for top-notch customer service.
Mario and Maria are both Central Valley natives and know that around here, word-of-mouth is paramount to success in any business, especially a service industry like transmission repair. From the moment they opened Express Transmissions, customer service has been their priority. "We're a family-owned business with strong local connections, so nothing is more important than treating our customers right," Maria says. The result has been nothing short of spectacular, especially when you consider the struggles so many other businesses have had in today's economy.
Whether business comes through their website (http://www.expresstransmissions.com), through word-of-mouth referrals or repeat customers with multiple cars that need servicing, the word got out that this was the best transmission shop in Stockton with a staff who knew what they were doing and stood behind their work with unprecedented 3-year, 50,000-mile warranty. And now, it's getting even better with the opening of the new shop in April.
"We couldn't be more excited about where Express Transmissions is heading," Mario says. "We pride ourselves on providing the best quality to our loyal customers, so this shop is just another way to make sure our service is always improving."
# # #