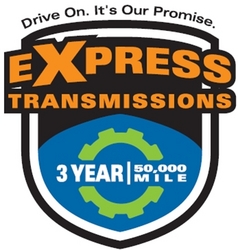 "Those are good numbers for a shop that's been operating for a decade or more in a strong market. In a new venture it's almost unheard of.
Stockton, CA (PRWEB) April 1, 2010
When the editor of GEARS magazine called Mario Jauregui of Express Transmissions a few months back, it definitely caught his attention. When you run an independent transmission shop in an economically-challenged town like Stockton, you don't expect to get noticed by the world's premier trade magazine for the transmission industry. For Mario, it was an honor, to say the least.
Mario gladly took the call and performed a lengthy interview with the writer of the monthly article "Making It Work," where the magazine features successful shops throughout the country to show What's Working in the highly competitive industry of transmission rebuilding, repair and service. Now, his success story is prominent in the March 2010 issue of GEARS as an example of what one shop can do with the right approaches to marketing, networking and, most importantly, customer service.
The article details Express Transmissions' dramatic rise from its humble beginnings in 2008 to the highly successful business it is today, despite slow market conditions nationwide and especially in Stockton. Here are some selections from the article:
"According to Forbes Magazine, Stockton, CA was 'The Most Miserable City in the US' for 2008. With that in mind, why would anyone have considered opening a new transmission shop in Stockton in 2008? Yet that's exactly what Mario and Maria Jauregui did when they opened Express Transmissions. And by the second year of operation, Mario and Maria broke through $1 million in sales!"
"Those are good numbers for a shop that's been operating for a decade or more in a strong market. In a new venture it's almost unheard of. So how did these two newcomers manage to buck conventional wisdom and turn the transmission repair industry of Stockton on its ear? Turns out, they discovered What's Working."
From extensive advertising to highly personalized customer service approaches, GEARS highlights the business strategies that have made Express Transmissions stand out from the competition and continue to grow their business despite the challenging economic conditions. Now, Mario is relocating to a new (and improved) shop in Stockton, which is a sign of both the shop's prosperity and its continued commitment to providing the best in service to their valued customers. "It all comes down to a simple philosophy," Mario says. "We believe in doing what's right for people. With this approach, there's nowhere to go but up."
To read the full article go to http://www.GearsMagazine.com or to learn more about Mario, Maria and their team at Express Transmissions, you can visit them online at http://www.ExpressTransmissions.com.