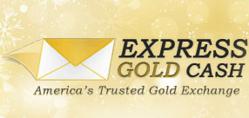 Salamanca, NY (PRWEB) December 09, 2012
New York based Gold Exchange, Express Gold Cash announces fast cash payment within 24 hours for selling gold.
Once they receive gold, they will make offer instantly and send the money within 24 hours to the sellers. This move by the Gold Exchange is sited as a positive trend by many industry experts who think that people sell gold only when they need cash urgently and providing them with the money fast is a good service. "The latest service will be beneficial for those who wonder how to sell gold fast", says the General Manager of Express Gold Cash.
"With more than ten years of experience, we think that we have earned confidence and trust of the clients. However, we always try to better our services and that is why we have decided to send cash for gold within 24 hours. We realize that people choose selling gold as the option when they need fast cash. Thus, we aim to make our service fastest within the sector," quoted the owner of Express Gold Cash.
According to the marketing manager of the company, they are getting number 1 ranking consistently from the independent sources and it acts as a motivation for them to offer the best service. He said, "We are constantly holding the premier rank among the 'cash for gold' services and it is our responsibility to transfer the pride in terms of benefits to our clients. That is why we always try to improve our service In terms of safety, security, convenience and speed."
Ronnie Gamer from New York says, "I was looking for a service that can provide fast cash in exchange of gold. This 24-hour service is definitely worth giving a try."
Express Gold Cash also maintains a return policy for the convenience of the gold sellers. If the seller is not 100% satisfied with the offered cash value, then within 30 days, they have to call and return the check. The gold exchange will then return every item along with additional $20 for trying their service.
About the company- Express Gold Cash is based on Salamanca, New York and is operating as a premier gold exchange for more than 10 years. They have achieved and maintain A+ rating by Better Business Bureau for high level of service and care for the customers. For more details on the services, visit the website at http://expressgoldcashonline.com.